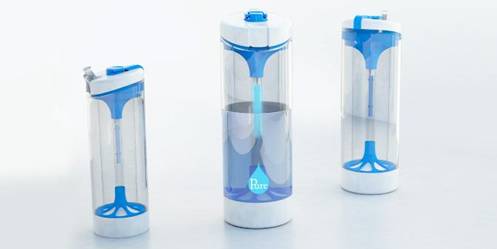 The winner of the UK James Dyson Award has been announced: A water bottle that uses ultraviolet (UV) light to sterilise drinking water anywhere in the world.
Time Saver
The idea came from Timothy Whitehead, an Industrial Design and Technology graduate from Loughborough University. He had the idea while travelling in Zambia, where he saw a widespread reliance on chlorine and iodine tablets to sterilise drinking water. This process can take up to 30 minutes to work and leave a nasty taste in the mouth.
Timothy's water bottle 'Pure', can reduce the process down to only two minutes, and the water won't have an unpleasant aftertaste either.
Wind-up ultra-violet
The process works by using an inner and outer chamber of a bottle. The outer chamber is filled with dirty water (for example, from a lake or puddle). The inner chamber then plunges through the outer chamber, filtering water particles as small as four microns. Once the water is clear of sediment, it is sterilised for 90 seconds using a wind-up ultra-violet bulb.
The fully working prototype has already been scientifically proven to sterilise 99.9% of bacteria and viruses. This could make a huge difference in developing countries.
Worldwide competition
Timothy's winning invention will go against many other inventions internationally, including:
Nemo (Austria). A life boat that can be transported by plane for high speed rescue and can land on water safely with the crew inside.
Interior Compositing Device (Switzerland). A bin that decomposes organic waste quickly without having to worry about the smell.
Amatoya (Australia) A light and fast car that can drive through rugged terrain and penetrate a fire.
Wanderest seat (New Zealand). A seat designed to be strapped to public spaces such as a lamp post.
Automated Parasite Detection System (Canada). A device that can diagnose easily whether a patient has malaria or not. Current methods require a lab and are time consuming.
Sleepeasy (Belgium). A solution to insomnia by generating a slow breathing pattern in an unconscious way. The user embraces the pillow and feels an up and down going movement. The user will follow the breathing of the pillow and therefore be more relaxed.
The Flip Ski Boot (Ireland).  A ski boot that is soft soled rather than rigid, giving the user freedom on the mountain.
The entrants will be judged by Dyson engineers, and then James Dyson himself. The winner will £10,000 and £10,000 for the current or former student's university department. There's also a good chance the inventer will get the opportunity to work for Dyson, like last year's winner.