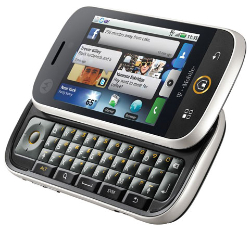 I recently included the Motorola DEXT in a round up of all the new Google Android phones, and I've finally managed to get my hands on one to test!
Based on looks alone, I'm impressed. The phone is smaller and slimmer than the iPhone, its biggest competitor, and the slide aspect gives you access to a QWERTY keyboard and control pad.
So aesthetically I was easily sold by the polished and professional look. My reaction about the contents of the phone however, didn't follow quite the same pattern.
First, I had to go through the registration for the MOTOBLUR account. Unfortunately, the fiddly keyboard, with all the keys squished up, made typing in my details a lengthily affair.
The screen requires quite a hard tap to get access to any of the features. I'm used to quick and easy scrolling with my Nokia 5800, so it caused me some irritation when I couldn't grasp onto the slide bar on the menu screen.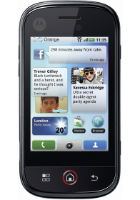 So, initial glitches aside, I browsed the rest of the phone's features. The MOTOBLUR lays out all your social networking accounts, email accounts and image uploading sites on the home page.
The 5-megapixel camera is one of the best I've seen on a phone recently, and the simple browser displays clearly on the large screen.
When I sat down to start this review, I wasn't a fan. But the more I've tinkered with it, the more I've started to like it. As with a lot of phones with advanced features, it can take a while to get accustomed to using it, but this handset definitely has potential.
Wins points for:
Social networking. Easy access on the home screen to Twitter, Facebook etc, plus ability to update my status on each site with one click. I like the collective messaging that the Universal Inbox brings too.
The 5-megapixel camera produces fantastic results.
Loses points for:
The keyboard. It's compact, but in saving room they lose functionality. At least I won't be writing any tipsy texts, but I won't be emailing anyone in a hurry either.
Screen response. Why do I have to mash the screen with my thumb to get anywhere? I can't grip onto the side bar either as it's so tiny.
Conclusion
Although initially frustrated with the navigation, I was won over by the MOTOBLUR technology. A good consideration, but I think I'll wait for the release of the Droid before I consider jumping on the Motorola wagon.