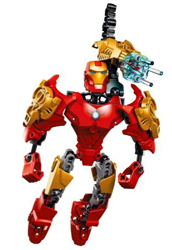 Lego have come up trumps with these giant figures based on the Avengers characters (£9.86 each from Argos).
Similar in style to the MegaBloks giant figures, it comes as an initial surprise to find they're not made of ordinary Lego blocks. Instead, they're constructed of a new mix of panels, clasps and poles, making them light, but also a lot taller than a usual Lego model would be.
Nice and easy to build, these characters look really cool, and are great to play with. And a lovely added touch, if you get more than one of these characters, you can mash them up to create megamix versions.
Hulk, Iron Man and Captain America are available.