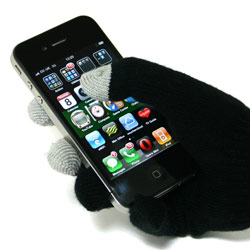 Smartphones have become almost ubiquitous over the last couple of years. Even my mother has a touch screen phone, although she hasn't quite grasped typing on it: she still sends me messages saying things like 'Crime home soon'.
I think then that I can speak with confidence when I say that we've nearly all of us experienced the pain of cold hands whilst trying to type a message at a bus stop or walking to walk in the winter; touch screens just don't work with your fingers covered.
But worry not! There's a solution to this problem in the form of these Smart Gloves for Smart Phone from Gizoo. I gave them a test drive for the benefit of you lucky Dork Adore readers.
Listen carefully, here comes the science bit.
You see, the way a smart phone knows what you want it do is via the electrical current travelling from your fingers to the screen. A layer of capacitive material under the screen monitors the change in charge depending on where your finger is touching the phone.
But when you're wearing gloves they act as an insulator, effectively blocking the electrical current and stopping the phone responding to your touch. The Smart Gloves get over this hurdle using conductive material woven into the tips of of your main screen-surfing fingers so that the current can still pass through and allow the touch screen to function.
I was initially worried about this conductive yarn, assuming it would be irritating to the fingers or scratchy like wire wool, but I was happily proven wrong. The gloves are comfortable and warm. I was genuinely excited when I tried them out with my iPhone and realised that they worked as well as my bare hands, even when it came to typing a text (though unfortunately they did nothing to help my terrible spelling).
It's no exaggeration when I say that owning these gloves is going to change my life. I get horribly cold hands and I'm also horribly addicted to Twitter, but now I can stand at a bus stop and tell the internet all about it! I've already wowed colleagues and family with them; I can definitely see them popping up in a few people's Christmas stockings. The gloves are compatible with all smart phone and are available at Gizoo for £7.99.
In the interests of honesty these gloves were provided to me free of charge by the good people of Gizoo, but the opinions remain all my own.