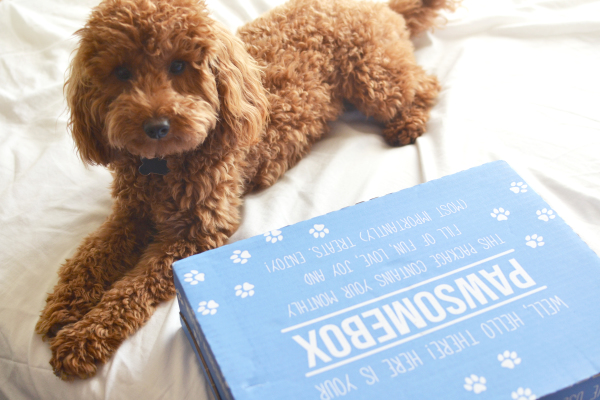 Welcome to the world of Purrfectbox and Pawsomebox, the monthly subscription service for your pets!
We recently mentioned both boxes on our 'best Christmas gift subscription boxes' list, and I have since been fortunate enough to try out both of these.
Each monthly box comes with 5–6 themed treats, toys and goodies (including hygiene accessories and feeding aids) for your cat or dog, based on the season. And I'm pretty sure that this number does not include the actual box that the stuff comes in, so, bonus! Also, all items are picked based on your pet's profile, so you'll be able to avoid things they don't like.
What's also really good to know is that the company that runs the two services gives money to UK animal charities and shelters, so you know that some of the money you're spending on treats for your well-cared-for pet is helping others in need.
"Here at Purrfectbox we simply love animals. We care not just for those animals lucky enough to have a loving family, but also for those animals less fortunate who find themselves in shelters or on the streets. Purrfectbox provides financial support to a number of associations in the UK which provide care, shelter and protection for homeless animals and maltreated pets."
You can find out more about the what associations they support on the 'Helping Purrs' and 'Helping paws' sections of their sites.
Needless to say, I was pretty excited to receive my trial boxes as I'm basically a cat fanatic (I have lost many a Facebook friend in the tirades of photos I like to spew out…). My cats were, as usual, oblivious to the relevance of the box until I set it down in front of them, opened it, and let them climb inside.
Then they were over the moon.
As I don't have any dogs of my own, I tried out the Pawsomebox with the help of my friend and co-worker's two doggies, Daisy and Shamrock, who were crazy enthusiastic about quite a few things. But first the important bit:
What do you get and how much does it cost?
The boxes cost £19.90/month, £170.40/6 months (that works out at £17.90/month), or £190.80/a year (£15.90/month) on a rolling subscription that can be cancelled at any time.
They are normally delivered between the 20th and 25th of each month, and you can see the contents of past boxes on the Purrfectbox and Pawsomebox sites.
Speaking with the company contact, I was told that: "If the products in each box were purchased separately at a major UK petstore, they would typically amount to around £30 for the customer."
I did try to check the values to get the exact amount, but the RRP was unavailable in most instances – I've given the values that I was able to gather below.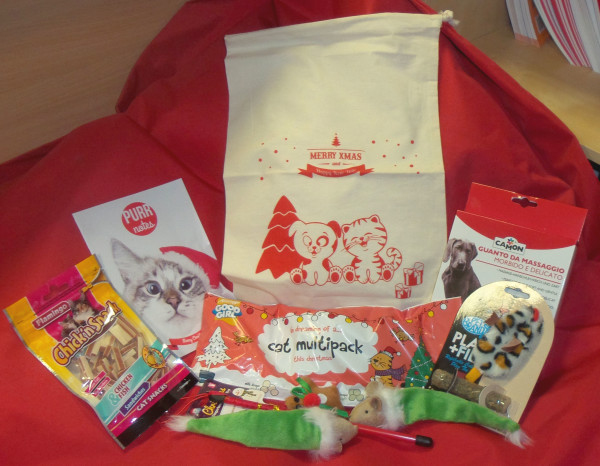 My Christmassy Purrfectbox contained:
Also included is a 'Purr Notes' leaflet from the editorial team at Purrfectbox, with notes on protecting your Christmas tree from your cat (and vice versa), some amusing cat picks, a DIY cat game page and a Christmas shopping page of cute cat-related products from around the internet (I don't know what it says about me that I already had several of these products on my Pinterest wishlist…).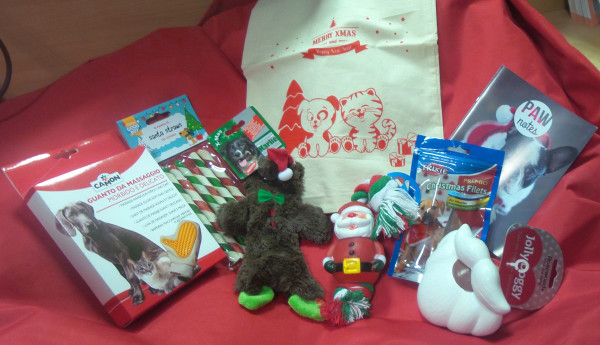 My seasonal Pawsomebox contained:
Rosewood Santa Beard Chew Toy – £3.99 on Amazon
Trixie Christmas Filets (treats) – RRP £5.97 on Amazon 
Duvo Santa Tug Toy – couldn't find online
Karlie Squeaker Toy – couldn't find online, similar items cost around £5.00
Armitage Good Boy Santa Straws – no RRP but they're available at various places online for £2.50–£7.00
Camon Grooming Glove/'Magic' Latex Glove – no RRP, €2.99 (£2.34) online
Pet canvas bag/'stocking' to store toys

Ok, so, back to the fluffy things. The doggies absolutely loved the edible bits in the box (the Trixie Christmas Filets were a particular hit) and the younger, bouncier one (Daisy) adored the Rosewood Santa Beard, with hilarious results, and also played with the other toys.
The Camon Grooming Glove was a success as well, although it did make Daisy's fur go absolutely everywhere. Her owner commented that it will be useful nearer the summer when the dogs will be moulting.
I tried the glove out on my cat Gaius as well. He hated it. After I brushed him with it I set it down and looked away for a moment, and when I turned back it was gone. To this day I do not know where it is or what Gaius did to it. But it did make him feel extra soft!
While the dogs pretty much loved everything (as they're wont to do), my cats were a bit more stereotypically picky. Gaius (the tabby) initially stuck his head into the box for a minute and emerged with one of the Happy Pet Merry Mouse toys, immediately beginning to bat it around.
Maebe (the black one) came downstairs once she heard the rustling, and proceeded to stomp all over the contents of the box, pawing at various bits. All the toys were an immediate hit – particularly the merry mice, which I highly recommend – but the treats were a bit hit and miss, which is only to be expected with the haughty reputation cats generally rock.
Still, there was some love for the excellently named Karlie Flamingo Chick'n Snack Sandwiches, and Gaius had a nom of some of the crunchy treats from the Good Girl multipack.
It's worth pointing out that as these were trial boxes, I hadn't filled out a pet profile about what my cats do/don't like, so it makes sense that some of the treats weren't on target.
All in all, these boxes are adorable. The main plus for me was that as soon as we (my cats and I) opened the box it became all about the pet – I think we went on to play for almost 2 hours straight, following which we were all tuckered out.
Although I absolutely adore my cats, I often find that I don't play with them as much as they'd like because there's always work to do or social things to attend or groceries to buy. The Purrfectbox got the ball rolling on some quality playtime with my kitties, and that in itself is worth a lot.