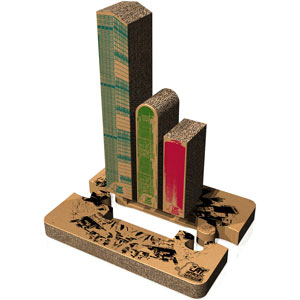 The fact that one of my favourite websites (Think Geek) had an entire section dedicated to pets had passed me by until now.
How did I miss this?
I named my cat Professor Moriarty, of course I want geek themed toys for him.
I lost most of an evening gleefully bookmarking my top items and I thought I'd share them here, for any other pet owners with a love for the geekier side of life.
At the top of the list is this Cat Attack Scratching Post, $29.99.  Watch in horror while your cat attacks a row of skyscrapers! The only thing that could make this better is if there was a Godzilla cat costume. The fact that I'm considering making one myself probably means that I'm drifting into the arena of the unwell.
Follow the jump for more delightfully geeky pet toys…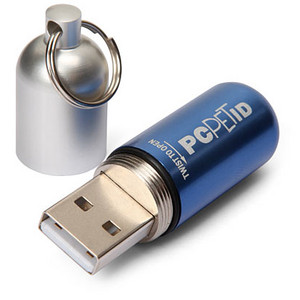 Those little tubes that you slot a piece of paper containing your pet's vital info on are so out of date in this digital age. Modernise with a USB stick version instead and make sure Fido comes safely home should he go astray. $14.99.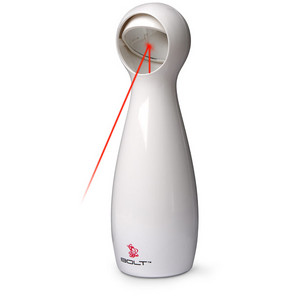 No more embarrassingly low-tech dangling a piece of string for your kitty, oh no. You can make play much more exciting than that with this Lazer Pet Toy, $19.99. Shine it at the walls and watch kitty go mental (erm, you should probably watch the furniture when using this one)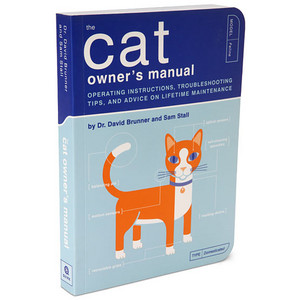 Cat-owning is a tricky business and so a cat owner's manual, $15.99,  is the obvious solution. I actually own this myself, and as well as being hugely entertaining (it's set up in the style of a car manual with 'model type' forms and so on) it's actually a really useful book for keeping vet details, vaccination dates and so on.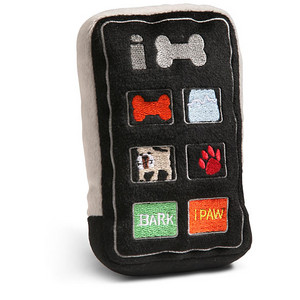 If you're house is as much of an Apple zone as ours is, you can make sure your dog fits right in with his very own iBone, $11.99 (see what they did there?).
Unfortunately, it will not enable your dog to update his Twitter account but the next gadget will…
That's right, the Puppy Tweets, $19.99, will update Twitter every time your dog barks, wags his tail or moves about. I'm not entirely sure of the scientific accuracy in translating your pup's movements into actual thoughts but it's still a pretty brilliant idea. There's not one for cats, presumably because they would simply say 'Food. Scratch sofa. Nap.'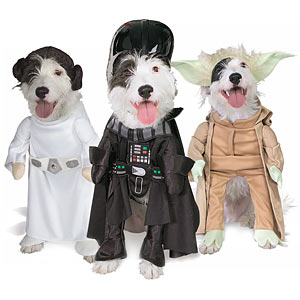 And finally, the ultimate geeky pet accessory: Star Wars doggy costumes*. Yes, for just $15.99 you can have your own Yoda, Leia or Darth Vadar and we won't even tell the RSPCA.
*you could probably use them for cats, but have you ever tried to get a cat into an outfit? Top tip: don't.