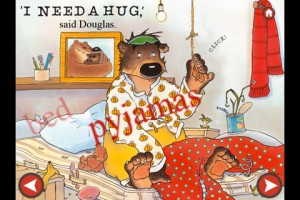 With 2012 about to sit squarely on top of 2011 and flatten it to memory, we can be comfortable in the knowledge that children's book apps are now coming into their own.
The industry that started out with a nice (if limited) Alice in Wonderland, has evolved into a beautiful medium, rich with invention. Stories are no longer there just to be read. They are to be lived!
So which ones are the best?
Kid's stories on the iPad: A roundup
The team at Nosy Crow are going great guns, pushing lovely illustration into the interactive digital world.
Bizzy Bear, The Three Little Pigs and Cinderella, all combine great visuals and an engaging level of interactive design.
Firmly rooted in storytelling, they complement Nosy Crow's printed output perfectly. My young, two-year-old tester approves, as do I. These apps really are very good.
Another treat is Hugless Douglas, a great example of a picture book transformed into an app.
Best described as a super-enhanced audio book, with Alan Davies providing the wonderful narration, it turns David Melling's book into an app worth having.
Peppa Pig's a winner
Other apps out there, pushing picture books into the future are Hide Run Growl, narrated by a CBeebies presenter.
I found it a bit simplistic compared to Hugless Douglas. My iPad-loving toddler enjoyed all the growling, but was soon disappointed that it didn't do more, especially after playing with more interactive appery. So young to be so jaded.
Representing children's TV, you've got Peppa Pig's Party Time (a real hit with my young tester, particularly in the section where you mix the birthday cake. Highly recommended), Postman Pat, and – just like the show itself – a quirky, slightly clunky, charming Ivor the Engine app.
Who wouldn't want to be Jones Steam?!
Pixar and co
It's no surprise that an ex-Pixar designer is behind the much talked about The Fantastic Flying Books of Mr Morris Lessmore – it looks beautiful. But while it's a nice (if bitty) diversion, the short film does it much better.
Perhaps my two-year-old is a bit young to appreciate the more interactive elements, but some magic was missing for me too.
Another option is the free read-along Toy Story app from Pixar, which is simple but good fun.
And there's also the lovely Nursery Rhymes app (Nursery Rhymes with StoryTime review on Dork Adore), worth getting for the chance to chop the tails off the Three Blind Nice (and reattach them) over and again – though my daughter would love it even more if it sang instead of said the songs.
Children's apps have really matured over 2011. Next year's going to be great.
Let us know which children's apps your kids are loving at the moment – we'd love to try them!
Alex Milway is a children's author and illustrator. His latest book, The Magma Conspiracy is out now with Walker Books. For more news, pictures and random gubbins read Alex Milway's blog .