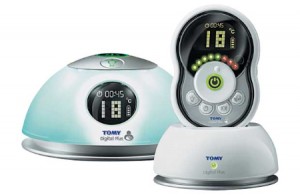 As I write this, my infant is upstairs screaming her head off while her dad sings a made-up nursery rhyme to the tune of Epona's song from Zelda.
And thanks to the Tomy Digital Plus Baby Monitor I can hear it all perfectly.
Tomy spent a long time researching and developing this baby monitor. And they needed to — their last monitors hadn't been updated for a very long time and were beginning to look decidedly tired next to newer, more fancy-featured monitors.
Good design
You can tell a lot of love, care and attention has gone into making the Digital Plus. Apple's influence can be felt on the design, with a large white touchwheel providing the controls, and a base station that looks like it's come off the bottom of a very tiny Mac.
The base station glows with a pleasant LED aura and you can change the colour or have it cycle through the rainbow automatically.
Fully featured
It comes with all the things you'd expect – 2-way talk-back, remote-controlled light, room temperature alert, feeding timer – as well as a few things you don't always expect such as vibration alert, and a volume control that can be set to mute quiet sounds — and only kick in when the noise goes above your preset levels. This is especially handy for parents with chatty babies. It's also useful if, like me, you have the constant hum of traffic outside that you don't really want to amplify into your living room.
Another nice addition is the "richer sounds" docking station, which gives you excellent quality audio once the parent unit is docked. What I really like about this baby monitor is that it only seems to broadcast noises. Other monitors simply broadcast everything, giving you a constant shushing sound of electrical silence. And if you don't want to hear anything at all, you turn the sound down and watch out for the flashing lights, or switch it to vibrate mode.
No nursery rhymes
Not everyone will be happy to lose the nursery rhymes. My sister used the blinky blonky tunes on her excellent BT 150 Baby Monitor all the time to quieten her baby without having to go in to him herself. And I grew quite attached to the ones on the Leapfrog monitor. The R&D guy at Tomy insisted that their panel of mothers absolutely didn't want or need nursery rhymes, so maybe it's just my family who uses them.
This is a great baby monitor. It's at the top end of the market both in terms of features and price, but if you want a monitor with all the bells and whistles (but no tunes), I think this is one of the best there is.
Gains points for:
Very easy to use thanks to the dial control
Excellent audio quality
Good selection of features
Loses points for:
🙁 No tunes. Not a dealbreaker, but they can be useful.
🙁 So sensitive it's almost over-sensitive. The lights flash up every time a car goes past our window, which is distracting.
Tomy Digital Plus Baby Monitor
Available to buy from