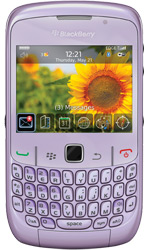 About a month after I dropped my beloved BlackBerry 8900 into a pint of festival cider, it finally decided enough was enough and rang its last. No amount of time spent in the airing cupboard was going to fix it.
Unlike seemingly every other human on earth, I didn't lunge straight for the nearest iPhone contract. Yes, the iPhone is a thing of beauty and yes, there's pretty much always "an app for that", but emails from people on iPhones read like demented, mis-spelled nonsense, and I'd still rather just write "mug me" on my forehead while out on public transport.
So I stuck with BlackBerry. Good old reliable (pints of cider notwithstanding) BlackBerry. And just how did I get on with the newest Curve?

The bad
The first thing to say about this particular Curve is that it's actually less powerful than my 8900. The camera has no flash, there's no GPS (though obviously you can still get a fairly accurate reading on Google Maps) and somehow it's marginally thicker than the 8900 (but lighter).
In fact, this model is designed to be more of an entry-level, affordable phone, though the monthly deals I found were only £5 a month cheaper than the 8900's.

The good
However, you can still install all the same BlackBerry apps, the keyboard still gets your emails out in half the time it would take on an iPhone, and it's still incredibly simple to use.
What's more, this Curve has done away with the pearly nipple trackball, replacing it with a trackpad that works amazingly well – and doesn't ever get trapped on a piece of biscuit crumb.
There are rubberised media buttons on top, which I'll probably never use, and thankfully the side buttons can be customised so you don't have to listen to that stupid "say a command" lady who pops up every time you try to put your phone away.
Minor niggle
This may seem like a minor complaint to you, but I was using that bloody lock button on top of the phone, and I'm not happy that it's been removed in favour of trendy media buttons. Now I have to press * and phone like every other mortal, and it gives me a tiny rage-wave every time.

More minor niggles
Why oh why oh why does the BlackBerry pester you for confirmation to switch it off, like you're incapable of knowing your own mind, only to switch back on if you happen to press a button while it's powering down. It also switches on so easily that you'll find yourself switching it on just to double check it was definitely switched off.
They all do this and they all need to stop. It's ridiculous.
Gains points for
The trackpad
The usable keyboard
BlackBerry simplicity
Loses points for
🙁 Not having GPS
🙁 Not being as good as the 8900
The violet version is available exclusively from the Carphone Warehouse (US: Bargain Cell)
You can do a handy features comparison on the BlackBerry website.