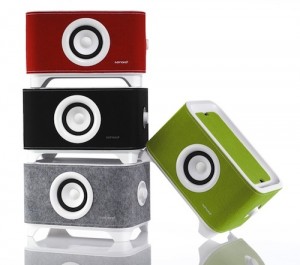 It's not usually that easy to get excited about what is essentially a speaker for iPods, iPads and iPhones, but the Troy from Sonoro Audio has charmed me.
Open the box and you'll find a very nice looking single speaker that combines modern, Apple-ish white wood and plastic with a retro, felt fabric casing.
And it's not just a speaker. Thanks to two USB sockets, you can charge as you play music – or just use the Troy as a good-looking charging station for phones and other gadgets.
Sonoro Audio describes it as a "universal charging and music system for any application", which just about sums it up.


Portable speaker dock
The audio quality on this little speaker is surprisingly good. It's good a good bass sound and a warm tone, making it ideal for listening to audio files via iPods and other music players.
It's been designed to be as universal as possible; although this is clearly aimed at an Apple-loving market, you can connect any music-ready device that supports line out. There's a 3.5mm jack socket on the bottom and another under the removable top cover. A switch under the cover allows you to select which one to use.
You can turn the speaker on and off using the volume control switch, which has a pleasing retro dial feel to it.
The only disappointment for me was that the speaker buzzed a little when connected to my laptop and computer monitor. This improved if I switched the short line-out cable that came supplied for a longer one and moved the speaker further away.
Mini home entertainment system

The universal dock design works well. Inevitably, there are compromises; older model iPods are a little
bit snug, while the Samsung Galaxy Tab has more room than it really needs. But the fact that you can use so many different devices is a real boon in today's multi-gadget world.
I liked the fact that an iPad can effectively be turned into a mini TV or monitor stand.
Pop the iPad onto the stand, plug in the audio, and you can watch iPlayer or other media to your heart's content – perfect for people who want to watch cooking shows in the kitchen, news reports in the bedroom and how-to videos when the sewing machine gets its annual uncovering (or maybe that's just my life).
Universal Charger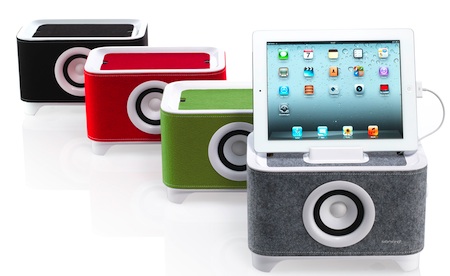 Being able to use the Troy as a gadget charger gives it added appeal. I kept it in the kitchen, charging mobile phones, cameras and other USB-powered devices. Because you can hide a lot of the wires under the top cover (you turn it over so the gadget dock is hidden), it makes for a far more attractive solution than a side cluttered with cables.
One USB port provides a 1 amp current for smaller devices, while the second port supplies 2.1 amps for bigger gadgets.
It's not cheap, with an RRP of £149.00, but this attractive speaker looks great in any room and oozes quality thanks to that wood and felt casing.
Available from