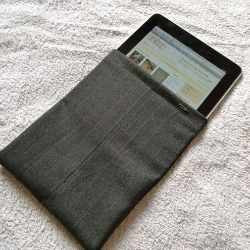 Here at Dork Adore, opinion is still divided on the iPad. Susi has learned some big iPad lessons, and I really, really want one…although I'm still not completely convinced why.
If you've already got your iPad, you'll probably want to keep it in the perfect, glossy condition it arrived in. We looked at some of the early iPad cases a few months ago, and an eco-friendly range last month. Now our friends in the crafting community have caught up with a selection of handmade cases and sleeves.
Emporium Of Geek over on Folksy have this hand-tailored pinstripe iPad sleeve for £19.99. A white-collar dream.
Here are four more crafty sleeves and cases for your Apple tablet.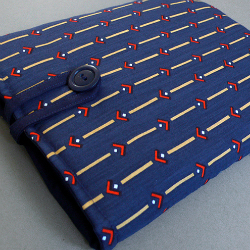 Part teenage boy's duvet cover, part grandad's pyjamas, this cover should be really wrong. I quite like it though, especially as it did in fact start its life as a pair of retro curtains. It's from Folksy seller toggle for £26.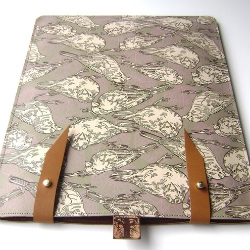 This sparrow and leaf design is a bit pricier at £65, but it's 100% leather. The range is by Beautiful Skin, who will also adapt all of their current iPod and iPhone designs to an iPad size.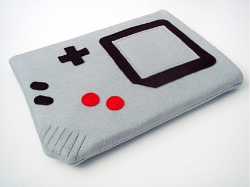 One for the geeks now, a Gameboy iPad Sleeve ($34). It's by Etsy seller Yummy Pocket, who also has Etch a Sketch, cassette and personalised cases.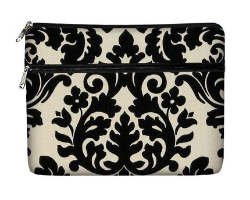 Finally, we've got a luxurious-looking case from Janine King Designs on Etsy ($39.99)
Seen any good crafty iPad cases or sleeves? Let us know in the comments