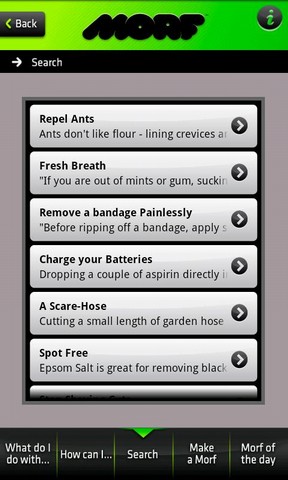 This week, I've been testing out an iPhone app to help me with the cleaning. Stick with me here people, it's not quite as dull as it sounds.
Morf is an app that helps you clean your Stuff using everyday household items.
Morf tells you how to:
Remove a broken lightbulb….with a potato
Get rid of rust….with an onion
Remove splinters…with Sellotape
Deter deer from your house…with a white sheet (always useful.)
Essentially it's an app full of unusual ways to get things done, using stuff that's already sitting in your cupboards. This means you use fewer chemical products, making it wonderfully eco-friendly. Plus, you get to involve potatoes in your life in a more enriched and meaningful way.
You can scroll through the wheel of products to see what can be done about an issue, use the search section, add your own Morf to the database or share a top tip on Twitter or Facebook.
It's like a mobile version of How Clean Is Your House. Without the annoying Kim and Aggy aspect.
The Morf app is £1.79 to download, and works on the iPhone, iPod Touch and the iPad.
Have you ever deterred deer from your house? Share your tips!