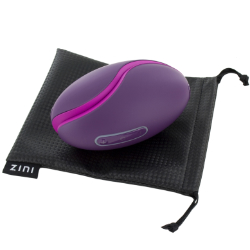 There's been a bit of a surge recently in the number of adult  toys aimed at couples. Even better, a lot of these dual products are actually quite pleasing for the eye.
The Zini Deux Luxury Couples' Massager Set on the right is an excellent example. It's already won the Red Dot Design Award 2010, and it's now winning points with us for its sleek style and extensive features.
The egg-shaped toy splits into two sections which are designed to fit men and women. Each half has five speeds and ten patterns, which makes it ideal for any couples new to the world of bedroom gadgets.
If you're not in the mood, it can always be used to massage away those tired gaming muscles after a long day!
Both parts are rechargeable, which makes the £139.99 pricetag (from LoveHoney) a little more acceptable.