So, I'm pretty high up on the feminist-y spectrum and believe things like "people should not be held up to an 'idealised' version of themselves for scrutiny". At the same time, I also fall under the umbrella of people who think that, say, Natalie Portman and Kiera Knightley are among the fittiest fitties around today. Not them exclusively, of course, but I guess what I'm trying to say is that I inevitably conform to many of society's ideas on what makes for a physically attractive lady.
Which is what makes it a little awkward for me to be testing and reviewing Celluence – a new and pretty popular anti-cellulite cream.
Throughout the trial of this cream I kept ricocheting from thinking "people should have the freedom to choose whether they want stuff like this", to "but surely by using such things we are promoting the idea that certain things, like cellulite, are bad and should be looked down on". And it gave me a headache.
Ultimately, I think I arrived at the conclusion that we should all gradually be working towards a place where things like cellulite don't impact on our self-esteem or how others see us – but some of us have already been affected by the 'beauty standards' set by the media and, subsequently, our peers, and if cellulite reduction helps us regain some confidence then who the hell am I to say that people can't use it? We're in this for the long haul and it's perfectly realistic to think that maybe we can't go cold turkey.
Without (much) further ado, here is an honest assessment of Celluence Phase One concentrated body cream as experienced by me. Anti-cellulite cream isn't something that you need – but if it's something that you want then, well, it's up to you. (I realise that trying this cream out seems like I'm trying to have my cake and eat it too, and to that I say … uh … here's the review.)
Celluence Phase One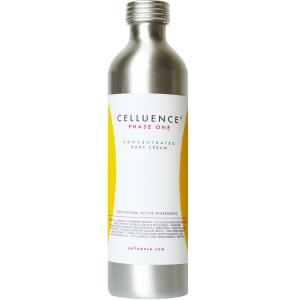 20x natural active ingredients, including high concentrations of escin, esculin, ruscogenin, myricetin, forskolin, caffeine, raspberry ketone, hydroxyproline, EGCG (green tea extract) and resveratrol.
"No other anti-cellulite cream in the world today contains ALL the important active ingredients in one package and in high concentrations. In fact, this was the reason for developing the Celluence creams in the first place: to create the ultimate anti-cellulite formulations." – Celluence
For more information on the ingredients and the company, visit: www.celluence.com
Firstly, what is cellulite?
Well, basically everyone knows what cellulite looks like, but I suspect that not everybody knows what it actually is. Cellulite is a naturally occurring fat build-up in women's bodies caused by oestrogen and the way our fat is structured, but it can also be indicative of an unhealthy lifestyle. It is generally recognised that, while certain products (such as Celluence) can help reduce its appearance, nothing short of liposuction is likely to get rid of it.
Even Celluence designer Georgios Tzenichristos will tell you that cellulite is completely normal for all women: "The underlying mattress-like architecture of cellulite is surprisingly found on all women, regardless of actual cellulite appearance, and merely becomes more pronounced and presents as cellulite when the right conditions are met. This basically means that all women after puberty possess what we can call 'pre-cellulite', which is basically 'incipient cellulite' or 'cellulite waiting to happen'.
"Nature wanted the skin in women's thighs and bottom to be soft but firm. Under-the-skin fat accumulation is a sexual characteristic that makes women's skin softer and more gentle to touch and therefore more attractive to men, and it is the equivalent of the lean, rugged appearance that makes men attractive to women. Obviously this softness-giving fat on the skin has to be controlled by means of some firmness-giving collagen strands, if a jelly-like appearance to be avoided and shape to be maintained.
"In summary, women's skin on the thighs, hips and buttocks evolved to look soft yet firm and for hundreds of thousands of years the fat-pouch-connected-by-collagen-strands structure was a huge success when women tended to be active, eat less/more naturally and did not drink, smoke or take hormonal contraception: it made women sexually attractive to men."
So, basically, having some cellulite is sexy and you should be able to combat the appearance of excessive cellulite – and, frankly, a great many health problems – by exercising, eating naturally, and not drinking/smoking/taking the pill. Or, yeah, you could try the cream.
What happened when I used it
The cream itself is of an almondy-gold colour and smells pleasant. What might alarm the unsuspecting, however, is the cool, persistent and I'd say minty sensation that follows application. I would liken it to smearing some Original Source mint shower gel – or some toothpaste – on to one's skin and just letting it sit for a bit. Personally, I quite enjoyed the sensation since it felt like it was actively doing something.
I actually ended up trying Celluence Phase One twice. The first time, I used the cream once a day for a little more than a month and, while I did notice a bit of firming, the results weren't overwhelming. At this point, one of the company's representatives emailed me to see how I was getting on and, when I told her that I had seen only some small results, she said that I had to use it twice a day and use more of it. I did think this a bit odd, since the instructions on the bottle specify "apply two pumps per area, once or twice a day", but hey ho. I tried again.
I waited a few weeks before using it again and this time applied the two pumps twice a day for about a month. This second time was indeed more effective, although it didn't get rid of the appearance of cellulite completely (indeed I think one would have to alter one's physiology significantly to achieve this) – what was still visible was some surface dimpling, but not to any great extent. My thighs were acceptable.
In the interests of disclosure, I want to mention that I did not hold to a rigid exercise routine during the testing – nothing beyond daily walking, cycling, and groupings of squat jumps. The cream does recommend that you use it alongside a healthy diet and exercise, and I think I fell short of the desired levels of those things, so my results may have been less exuberant than they could have been. Further to this, I am not overweight (to use BMI terminology) and do not have masses of visible cellulite, probably at least in part due to my age (25). I do however have a decent amount of podge on my tummy, bum and hams (ok, "thighs"), the latter two of which do have visible cellulite, which was about halved when using Celluence.
While chub and the idea of cellulite did bother me as a teenager, I like to think that I've become comfortable enough with myself so as not to feel bad about it these days – and most days it's a-okay. Also I've never really gone in for any of these "beauty treatment" type things, so if I seem a bit of an amateur on the body cream side of things, it's because I am.
What I like about the Celluence group is that they don't outwardly claim to have a miracle cure: "I have dedicated the last 14 years in cellulite reduction and I know first-hand that cellulite is very difficult to treat, so it would be disingenuous of us to make such claims – a lot depends on lifestyle and genetics. In fact, we prefer to make absolutely no claims about our creams, except one: that we offer you the best chance of reducing cellulite by providing you with the best, high-purity, high-quality, high-concentration active ingredients in our creams."
Another plus, which I thought I'd just squeeze in here as I've been increasingly obsessing about such things as of late, is that Celluence isn't tested on animals (I mean, I haven't done the legwork myself, but this is what they tell me).
The cream directs you to alternate between the Phase One and Phase Two creams on a monthly basis, with both phases coming at £135 a pop (or £250 for one of each), "ideally used for a period of 3-6 months". It also says "use the whole bottle within three months of opening", which, if you are alternating for the full six months, could see you buying two bottles of each phase, racking the total up to £500.
This is considerably more expensive than the majority of high-street anti-cellulite creams, but Celluence does have far more 'active ingredients' and is a lot cheaper than spending £2,000+ on liposuction. So, if you've tried the cheap stuff to no avail and you're still adamant about blitzing the cellulite, give this a go.
The verdict?
Given that it had some effect on me, it is likely to work for you – particularly if you maintain that fabled 'exercise regime' and alternate with the Phase Two cream, which isn't something that I worked up to. In fact, if you have a lot of cellulite you should first make sure that you are eating healthily and doing enough exercise!! If you specifically want to lessen the appearance of your cellulite and you want to do it for you, and you're happy to dedicate the money needed, then Celluence will likely help you along your journey – though, like the company itself says, they aren't offering a "miracle cure". On the other hand, if you're considering buying this because of what other people think, then I'd suggest beginning your journey with some thematic reading and some good old-fashioned reflection – because the most important thing is feeling comfortable with yourself, soft and lenient cellulite or smooth and firm muscle.
Thank you to Celluence, who provided me with a complimentary bottle of their Phase One cream for review. All opinions are my own.