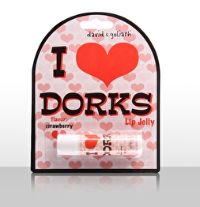 Never has there been a more suitable lip balm, than this I Love Dorks lip jelly from quirky design duo David and Goliath.
The geek friendly make up is part of a large range of David and Goliath products sold on ASOS.
It comes in a yummy strawberry flavour, and will moisturise and protect your lips against the tough conditions of winter.
I love Dorks lip Jelly, £4 from ASOS