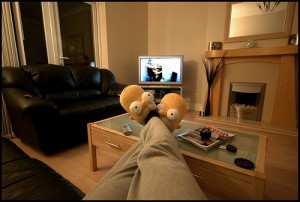 It's finally Friday, and after a long and busy week, you're probably considering your options. Do you:
a) Hit the pub and pay £20 for a £3 bottle of wine?
b) Stay in and enjoy some of the best TV in a long time, in your pyjamas with a glass of tasty plonk that cost you half the price?
Call me sad, but I'm going to grab my slanket and go for option b). We are in a recession, after all.
Here are 5 reasons why you should too:

1) Peep Show
This no frills comedy takes us through the daily lives of flatmates Jez and Mark, from their socially awkward point of view. I'm a relative newbie to the show (you can catch up on past episodes on 4OD) and it's now into its 6th series. Watch it if you've ever worked in an office, had a bizarre flatmate, or embarrassed yourself horribly in public with your lack of social etiquette.
2) The IT Crowd
Straight after Peep Show you've got The IT Crowd which focuses on, you've guessed it, the IT department of a company. The cast is made up of Katherine Parkinson (from the Katy Brand Show and erm…that Maltesers advert) Irish lovely Chris O'Dowd (shortly to appear in Gulliver's Travels) and Richard Ayoade (co-writer of Garth Marenghi and actor in The Mighty Boosh).  Moss (played by Ayoade) is the clear star, and the secret object of many viewers' affections.
What's not to love about a man who gives his afro a side parting?
You can catch The IT Crowd at 10.35 on Channel 4.
3) True blood
I know this is a repeat from Wednesday's showing, but I'm more likely to get a chance to sit down and watch it now than earlier in the week. Obviously this is going to require some stealth Twitter and Facebook avoidance. For those not familiar with True Blood, it's basically Twilight with added male nudity, and fewer scenes with Robert Pattinson pouting into the distance.
It centres around Clairvoyant waitress Sookie Stackhouse, who meets and falls in love with her first ever vampire, Bill Compton.  Keep an eye out for the chemistry between the two leads, as it's since spilled over into real life and the pair are engaged.
You can see it at 11.05pm on Channel 4.
4) Flash Forward
Missing Lost? Then check out Flash Forward.  The show kicked off last week and is based on a mysterious event that causes the whole population of the world to black out simultaneously. The cast is led by the rather gorgeous Joseph Fiennes, and it's on at 10pm on Five.
5) Autumnwatch

Yeah, I know this won't win me any cool points, but they have badgers on the show! Real life badgers. And baby hedgehogs! Can you tell that I'm a wildlife geek? It's literally the most relaxing thing you can watch on a Friday night, and it kicks off at 9pm on BBC2.
So what's it going to be? Going out or staying in?
Image courtesy of Flickr user SFB579