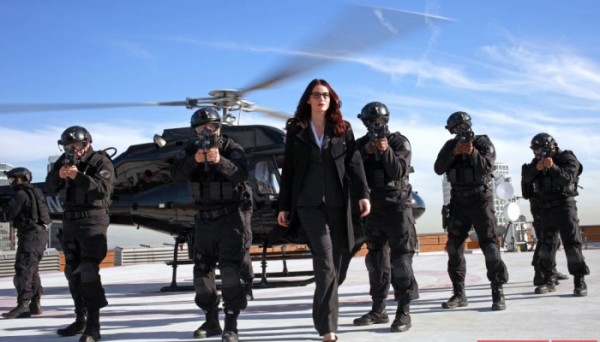 After a three month UK hiatus, Agent Coulson (Clark Gregg) and his friends are back… and the holiday is most definitely over. Last time around, we left Coulson's life in the balance and at the mercy of flower girl Raina (Ruth Negga). Will we finally find out the truth about Coulson's magical trip to Tahiti?
And will Agents of SHIELD finally take a turn for the exciting?
Spoilers after the jump. Catch up on the series so far on 4oD.
"Is that a Roomba?"
As I mentioned, the last time we saw Coulson he was at the mercy of Raina and Project Centipede – who were kindly asking him to spill the beans on how he's still amongst the living. This episode deals with the aftermath, and actually does quite a decent job in ramping up the action.
In the opening scenes, SHIELD sans Coulson work together to capture Raina's associate Vanchat, and the neat little action sequence surrounding it sets the pace well for the rest of the proceedings. Things get even more interesting when Agent Victoria Hand (Saffron Burrows) ejects Skye from The Bus, believing her to be untrustworthy. To Skye's surprise, Agent May agrees with Hand, but this is later revealed to be a bit of a ruse on May's behalf.
And a clever ruse indeed, considering that Skye spends most of the episode striking out alone in a bid to help from afar. The action splits itself into three, with SHIELD on the hunt for Coulson, Skye getting her Action Jackson on and Coulson in the not-really-enviable position of getting tortured for answers.
Not magical after all…
And that's where it gets tense. With help from Raina and a rather forceful looking machine, Coulson finally learns the truth about his resurrection – and it's not magical at all.
The closing confrontation between Coulson and Dr. Streiten (Ron Glass), is incredibly chilling, and as Dr. Streiten fesses up about what really happened, there is visible doubt on Coulson's face. Can Director Fury actually be trusted? Can anyone?
Of course, this emerging conspiracy plot feeds rather nicely into the threads of Captain America: The Winter Soldier (out March 28th)… which, and I can't believe I'm actually saying this… is making SHIELD's return quite an effective one. Let's just hope this tension continues into next week.
Next week…
Ice! Ian Quinn returns! And most importantly, Skye sort of learns the truth about her past! It's not going to be pretty!
Agents of SHIELD – Friday nights at 8 PM on Channel 4
More Agents of SHIELD on Dork Adore | Agents of SHIELD: S1E10 – Dork Review