After a spectacular last-minute redemption, aided by the events of Captain America: The Winter Soldier, Marvel's Agents of SHIELD signed itself up for a second series. Episode one, Shadows, had its UK premier last Friday, and it has certainly hit the ground running. With SHIELD now on the run as wanted fugitives with next to no resources, the stage is set for the front half of the series to be quite spectacular.
So, we've run through the episode with a meticulous comb (well, metaphorically speaking) and found a couple of the highlights from Agents of SHIELD season two, episode one.
Spoilers if you haven't seen it yet – catch up on 4oD and then rejoin us here?
It's Agent Carter and the Howling Commandos!
The episode opens with an excellent nod to what's to come in Marvel TV Land, with a kick-ass guest appearance from Hayley Atwell as Agent Peggy Carter. Accompanied by Timothy Duggan (Neal McDonough) and Jim Morita (Kenneth Choi), she manages to attack the last known HYDRA base, just after the end of the Second World War. The object they find there, a mysterious device called the "Obelisk", which could hold the key to death itself, comes to play a big part in the rest of the episode.
Hands up if you're even more excited about Agent Carter? Yeah, thought so.
Skye is now a fully fledged Agent (with May as her mentor)
After settling back in the present day, we now get to see Skye in proper action as she's been officially made an Agent. She's being mentored by Melinda May, and the almost sisterly relationship between the two is heartening to watch. Both characters have evolved immensely from when they first appeared (especially Skye, who's one of the most compelling characters in the whole show) and to see them working together so effortlessly is a joy.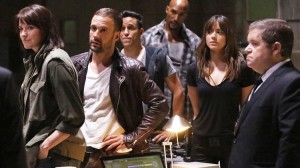 Seeing how Fitz recovers will break your heart
Less of a joy and more of a full frontal assault on your feels is the revelation of what happened to Fitz. The last time you saw him, he was unconscious and floating in the ocean in the arms of Simmons, waiting to be rescued from their drowning ordeal. Now, he's an entirely different man – issues with communication and memory, short-fused and a frustration with not being able to… well, be Fitz. Fitz has always been a little firecracker of science and knowledge, a genius half of a genius pair with Simmons. To see him so out of himself, relying on Simmons for comfort and reassurance as he tries to help develop a cloaking device for SHIELD transport is heartbreaking.
And then, in perhaps the cruellest twist of all, Coulson reveals that Simmons has actually left SHIELD a while back because she couldn't cope with Fitz's condition, revealing with pan of the camera that Fitz has been hallucinating Simmons this whole time.
Carl Creel and his absorbing screen presence
What a way to start on the villain front. Carl "Crusher" Creel (Brian Patrick Wade), AKA The Absorbing Man, is without a doubt one of the most compelling villains this show has had so far. Named so because whatever he touches transfers the molecules in his body to that particular substance, Creel provides some spectacular action moments – most notably when he transforms himself into tarmac and manages to crash the car containing Agent Hartley (the legend that is Lucy Lawless) , Lance Hunter (Brit actor Nick Blood) and Idaho (Wilmer Calderon).
Ward has become SHIELD's own Hannibal Lecter
In all seriousness, who ever saw it coming that Ward of all people was a double agent? Up until Turn, Turn, Turn aired, the man managed to keep his cards so close to his chest that it almost left him without a personality. And now he's here, in a high-tech cell, suicidal and willing to spill the beans on HYDRA as long as it's to Skye alone. Which incidentally gives us one of the more intriguing moments of this episode, as it's revealed that Ward may actually know Skye's father and is probably willing to bring her to him for a little father-daughter reunion…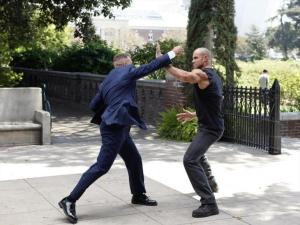 Quote of the week:
General Talbot (Adrian Pasdar) describing the SHIELD holding cell as "your honeycomb kill room".
Next time:
Raina's back! Lance Hunter is still here! Triplett is probably still not upgraded to regular cast member! Coulson's drawing stuff on the walls again! And we finally meet the mysterious man Raina spoke to at the end of last season's finale! He's played by Sheriff Dale Cooper from Twin Peaks! Excitement!