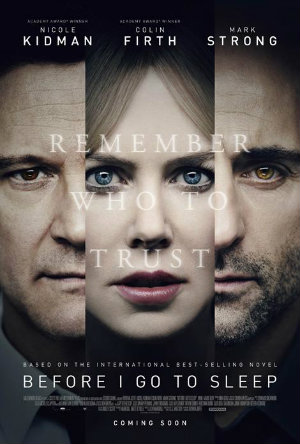 It's turning out to be a vintage year for thriller adaptations, with Gone Girl hitting cinemas this autumn and this adaptation of S.J. Watson's debut novel coming out just before it. Before I Go to Sleep, released in 2011, told the story of a woman suffering from anterograde amnesia. Which means she wakes up every morning with no recollection of who she is or what's happened in the recent past.
50 First Dates, without the romance and the comedy? Well, no.
Before I Go to Sleep
Director: Rowan Joffé
Starring: Nicole Kidman, Colin Firth, Mark Strong, Anne-Marie Duff, Dean-Charles Chapman, …
Runtime: 92 minutes
Rated: 15
Out in cinemas on September 5th
What's it about?
Christine Lucas (Kidman) is a woman suffering from anterograde amnesia after a traumatizing night ten years before. With the help of her doctor, Dr. Nash (Strong) and a journal she's been keeping, she tries to piece together what happened to her all those years ago. But when new and terrifying truths start to surface, Christine becomes unsure of who she can trust, and even her husband, Ben (Firth), seems to be hiding the truth from her.
Has Christine been lead down the wrong path by Dr. Nash? Is Ben who he says he is? And most of all, is Christine who she thinks she is?
See it because…
S.J. Watson's debut was met with praise from the critics upon its release, with a lot of love for the fact that Before I Go to Sleep's plot is rooted in the ordinary, domestic and suburban life. And judging from the trailer, Rowan Joffé has done a pretty good job with keeping that atmosphere. The core cast is strong, and Nicole Kidman looks like she's suitably unsettled as Christine Lucas. One to watch out for if you're suffering from summer blockbuster fatigue.
Before I Go to Sleep hits cinemas on September 5th. Buy the book online at Waterstones.
More about Before I Go to Sleep online: