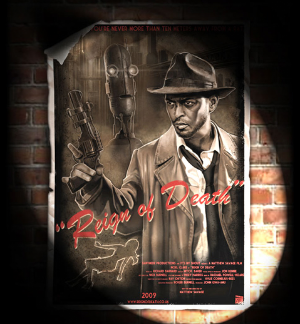 Fans of Doctor Who may have heard about an upcoming project from one of their concept artists, Matt Savage. The low-budget short film stars Doctor Who actor Noel Clarke, who played Mickey (also known as the award-winning writer and actor of the Kidulthood and Adulthood movies)
They've finally released a teaser, and it looks like the low budget hasn't stopped it looking like a polished piece full of watchability.
The short seems to combine the black and white visual effects of films like Sin City, with a bizarre looking robot called Jimmy.
Check out the trailer below.
Reign of Death official website