Quentin Tarantino takes the Spaghetti Western and gives it a shake of the peppermill. The result is Django Unchained, an epic, nearly three hours long genre mash up. But how does it match up to earlier Tarantino classics? Or is this the one that stands out on its own?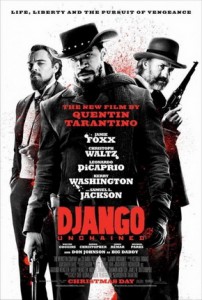 The Specs
Director : Quentin Tarantino
Written by : Quentin Tarantino
Starring : Jamie Foxx (Django Freeman), Christoph Waltz (Dr. King Schultz), Leonardo DiCaprio (Mssr. Calvin J. Candie), Kerry Washington (Broomhilda von Shaft), …
Run time : 165 minutes
Certificate : 18
The Story
It's 1858, two years before the Civil War. Several male slaves are being lead through the rough lands by their new masters, the Speck brothers. In the middle of the night, they encounter a man on a carriage. He introduces himself as Dr. King Schultz, dentist and – unbeknownst to them – bounty hunter.
Schultz is on the lookout for a slave named Django, who he finds amongst the chained men. Django (the D is silent) has been sold away from his wife Broomhilda and is desperate to see her again. Schultz reveals to Django that he is searching for the Brittle brothers, a trio of ruthless killers working for a plantation owner.
Schultz and Django come to an agreement. In turn for helping him track down and kill the Brittle brothers, he will grant him his freedom, 75 dollars and a horse. Schultz then takes Django, but not before killing one Speck brother and injuring the other, leaving his faith in the hands of the remaining slaves.
After they hunt down and kill the Brittle brothers, Schultz takes Django on as his associate. Together, they fight their way through the country, on the trail of Broomhilda and her new owner, the cruel Calvin J. Candie.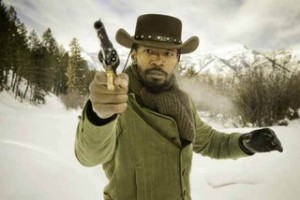 Quentin Tarantino Meets Bonanza
One could easily make the mistake of thinking that Django Unchained isn't a serious movie. When one of your characters is named Broomhilda von Shaft, you'd think Tarantino is having a laugh. But the moment the opening credits appear is enough to take your worries away. It's scenic, beautifully shot and every single actor acts the pants of themselves, not in the least Samuel L. Jackson who puts in an awards-worthy performance as Stephen, Candie's loyal house slave. Seriously, ALL the awards.
If Westerns aren't your cup of tea and you're having second thoughts about this movie, by God, don't! It's worth every penny to go and see Quentin Tarantino take on the Western in his inimitable style. But if violence isn't your thing and you're easily offended… well, it's Tarantino, after all.
Nominated for five Academy Awards, including Best Picture, there's a good chance that, come awards season, you only need to remember one name.
D.
J.
A.
N.
G.
O.
The D is silent.
Find more Django Unchained on IMDb.com – More Django goodness at Lovefilm.com