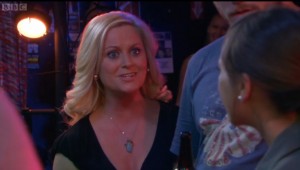 Last time on Parks And Rec, the gang attended a banquet in honour of Leslie's mother. Leslie honoured her mother by getting a new hairdo and (but of course) Things Went Wrong.
Today! Last episode of series one and, as in the true tradition of last episodes of series, things are about to go down. Mainly involving Andy.
If you haven't seen this one, hurry to iPlayer!
"Hey, my iPod!"
From the cold opening, we gather that it's Andy's cast-removal day! Can we get a woo-hoo for this? Of course, inside Andy's casts is a plethora of disgusting things, including Ann's long lost iPod (!).
Andy invites the gang to his band's gig (a mix of Matchbox Twenty and The Fray…. as you do) but Leslie is unable to attend, as she's got a tête à tête (read : date) with a political bigwig on the agenda.
From there on, two things happen. One is that Ann discovers that Andy's been keeping his casts on for longer than was agreed on. And two is that Leslie's political bigwig has been told he is on a date with her.
At the rock show, things come to a head, as Leslie and Mark appear to grow closer and Andy and Ann drift apart…
Falling in the pit
And we have officially finished series one! Give yourself a round of applause if you stuck through it. This episode is a remarkable improvement on the previous five. Again, not much character-building, but it's just a great heap of fun to have our characters outside the confines of the parks department. We discover that Ron is dating his ex wife's sister (who coincidentally hates her sister, so win win) and we finally get to meet Tom's wife (who does indeed exist). There is a kiss between Mark and Leslie, a spat between Ann and Andy, … I mean, what's not to like?
And in the end, it all hinges on Leslie Knope's relentless optimism. Is that not worth tuning in for?
Next time, we ring in series two !
More Parks and Recreation on Dork Adore |   Parks and Recreation: The Banquet – Dork Review