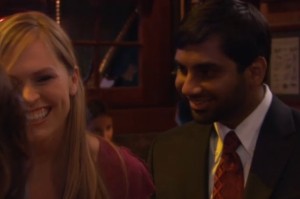 Last time on Parks And Rec, Leslie made a bit of a booboo, April The Intern got drunk and we learned that The Old Boys Club is still very much a thing. Rah!
This time, there's banqueting afoot in honour of Leslie's mother, while Tom and Mark try to hook up with some lovely ladies.
If you haven't seen this one yet, get thee to iPlayer before I spoil all your fun!
"This is my evening. I'm Leslie's trophy wife."
After a cold open detailing the quite gruesome history of Pawnee (maiming and killing and pioneers, oh my!), Leslie is pleased to announce that her mother is getting an award for excellence. Marlene, or as Ron dubs her "The Iron ********* of Pawnee), is a formidable woman, and Leslie is seen trying to write a speech in her honour. Of course, having Tom write your speech is not exactly a good way of going about.
Of course, in true Parks and Rec fashion, things start to go a bit south from the early off, and this is no less true then when Leslie shows up at the banquet sporting a full-on Ellen DeGeneres hairstyle given to her by the local barber.
At the banquet, she tries insanely hard to impress a zoning board member in attendance, which result in a very awkward speech and a spot of blackmailing to go down in the ages.
Meanwhile, Tom drags Mark to a bar to hit on some ladies. This is not nearly as interesting as it sounds, trust me.
Blackmail
We are nearing the end of Parks And Rec's first series. Can I get a hu-rrah from all of you? Fortunately, this episode is quite good, with Marlene Griggs- Knope as a shining example of how not to do politics. Leslie, bless her, is not at all suited to blackmailing and makes a bit of a pot of it. Between that and her funky hairstyle (which in the end turns out to be a rather severe up-do) it's a good episode for Ms. Knope. And, AND! We finally get some proper Ron Swanson action! Again, hurrah!
Join me next time as the first series concludes… ooohh…
More Parks And Recreation on Dork Adore |  Parks And Recreation : Boys' Club – Dork Adore Review