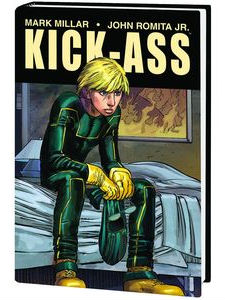 On the evening of Monday 22nd March, whilst a glittering galaxy of stars attended the glittering première of the movie Kick-Ass in London, I curled up in my room and read the comic book upon which it was based. Frankly, I think we both know who wins.
Most of the time, these films are based on comic books that are at least twenty years old, which would make this a very dated review, but Kick-Ass is a special case.
Because the eighth and final issue of the series, completing the story upon which the film is based, was only released in mid-February. The graphic novel collecting the whole thing has barely been out for a fortnight. Obviously, the film has not been turned around in that time as that would leave us with something akin to a student production, possibly involving wigs.
Original Kick-Ass writer Mark Millar has been heavily involved in the film from the beginning, and (although I haven't seen it), one presumes he's told them what happens at the end, rather than leaving screenwriter Jane Goldman to fill in the blanks herself.
Certainly, I wouldn't have liked her chances of guessing the ending. Although the basic premise of Kick-Ass is guttingly simple (real-life nerd tries to become superhero, gets beaten up a lot), the actual plot twists and turns viciously. Even more savage, though, is the violence that takes place along the way.
In his work with classic Marvel characters like Spider-Man and the Avengers, Mark Millar has quietly nudged up the level of violence he can get away with, but it pales in comparison compared to the blood-spurting and limb-chopping present in Kick-Ass.
It wouldn't be quite the same, though, without John Romita Jr's amazing art. His figures have real weight, and it makes the horrible things that happen to them all the more real. And no-one draws a truly pulverised face quite like him; the make-up artists on the movie will struggle to match it.
For those who seek an intricate character study, this series may not be for you. Kick-Ass does establish its loser-geek character, but only sufficiently to make it clear he's way out of his depth when things get bloody. But the characters and their actions are over-the-top enough to make you say "Wow, that's cool", whilst still seeming real enough for us to care about the stupid things that happen to them.
In short, there's a lot that's cinematic to the Kick-Ass comic book series: a clear beginning, middle and end, whilst still leaving space for sequels. So perhaps it's no surprise that it's found its way to the movies so quickly. And, happily, thanks to Millar's clear story-telling and Romita Jr's career-best artwork, the comic is a perfectly good example of its own craft as well.
As long as you have a strong stomach.
Kick-Ass comic book series on Forbidden Planet
Reserve Kick-Ass on LoveFilm/Book cinema tickets