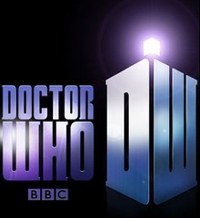 Amongst the many reasons why I love this colder time of year (and most of them involve stodgy food of some kind) is the brilliant range of TV shows lined up.
From the return of Doctor Who to the Beeb's alternative to Flash Forward, there's something for every geek girl's viewing taste.
Check out the great shows we'll all be snuggling up in our slankets to in the coming weeks.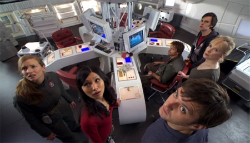 The rather gorgeous David Tennant returns for the first of three special episodes that mark the end of his run as the Doctor. The first episode, titled The Waters of Mars, is due to screen on the 15th November on BBC1. The trailers have already started popping up, and it looks like a corker.
Expect lots of jumpy bits, quirky monologues and amazing special effects. Also, keep an eye out for the revamped logo (right)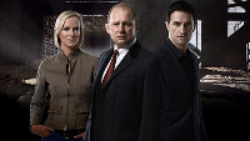 Spooks returns for its 8th series on BBC1 on the 4th November.
This time, the suspicions of  Ros and Lucas are aroused over whether their leader Harry has really been kidnapped and murdered. The discovery of the body of his kidnapper further piques their interest in the case, as they begin their own investigation.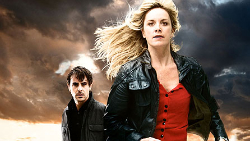 Tagged as the Beeb's answer to Flash Forward, Paradox is due to air at some point later this month. The drama, starring Tamzin Outhwaite as Detective Inspector Rebecca Flint, centres around some images received from space that seem to be of a tragic event.
The twist? The event has yet to happen.
Get a sneak peak here.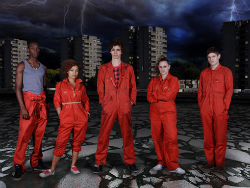 Misfits looks to be the jewel in the crown of E4's winter schedule. The story centres on a group of five outsiders undertaking community service. When they get caught in an electrical storm, they realise they've been given super powers.
The series follows their lives as we discover what actually happens when you can read everyone's thoughts or turn invisible.
You can check out the Misfits trailer here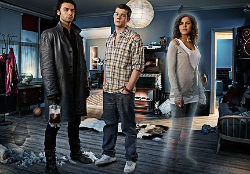 Popular BBC series Being Human is due to return for a second run. The show, which centres on a vampire, werewolf and girl ghost living as flatmates, is due to return to our screens in January 2010.
Fancy a little more of your Mitchell the vampire fix before the series returns? Have a peek at this behind the scenes interview.
With these new shows, there's really no reason to have to resort to watching Celebrity Big Brother.
What are your must watch shows for the colder months?