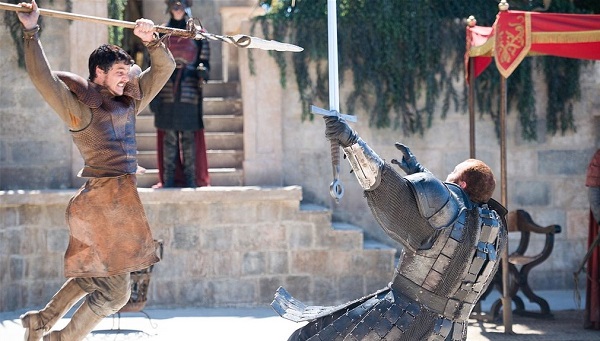 After a short interlude for Americans to remember something, back to Game of Thrones. Following the last couple of weeks, not to mention the title of this episode (The Mountain and the Viper), we're clearly all here for Tyrion's trial by combat fight between Oberyn Martell and The Mountain.
They're going to make us wait for that, though. First up, all the other plots need a turn, and now that the end of the season is very near, they've all suddenly moved towards their point. Spoilers to follow about what exactly those points were.
Arya & Ramsay in: GRIM JOY
For the most part, stuff is happening all over the place, or we're getting told in plain terms that stuff is about to happen, so stick with us, guys! The Stark daughters have a fun week. Not being a constantly shoved-about puppet seems to suit Sansa well. Arya only gets one scene, but her hysterical laughter on hearing about her aunt's death was perfectly pitched. Because, well, why not?
Theon and Ramsay head out to conquer a castle, allowing a plain display of what a useless shell of a loser poor Reek now is. Yes, he deserves a certain amount of suffering, but I think we might've passed the ENOUGH point about a season ago. Still enjoying the joyful villainy of Iwan Rheon as Ramsay.
Dany & Jon Snow in: WE MATTER
Out in Dany-land, there's romance brewing between her general and her translator! Quite sweet, assume it'll end in tragedy eventually. But the bigger move was Jorah Mormont finally suffering for his spying back in season one. The Dany/Mormont friendship has been with us since the beginning, so to see it ripped apart like this should be a big deal.
And yet it doesn't feel like one. Yes, I felt a twinge of Oh, that's a shame, but their relationship hasn't been used much this season, and as a result, the moment felt a bit flat and out-of-nowhere. Interesting to see if Mormont can find a new and mega-exciting plot now he's free from hanging around Dany though.
In a similar vein, the wildlings are hitting the Wall! This is clearly setting the stage for a big fight, and hopefully that'll be epic, but I can't say I'm feeling the build-up much. The up-North storylines lacked momentum this season.
Oberyn Martell in: DUDE WHERE'S MY HEAD
And, at last, our main event: the big fight! Well, first a nice monologue about beetles, delivered by Tyrion to Jaime, bemoaning the pointless destruction of lesser beings by a bigger one. Clearly someone's just realised he's a fictional character.
But we eventually get to the combat, and it's a good scene. Oberyn makes it clear why he's really in this, and like all good character driven tragedy, it proves to be his undoing. His horrible, violent, messy undoing. I was just saying how much I was enjoying this new character in my previous review, so of course his head has now been crushed. Imagine me doing an Arya-style laugh of resigned suffering.
A decent episode, then, stuff happening with little filler, and that ending propels it into the higher strata almost on its own. I'm not entirely feeling a couple of the storylines, but I imagine I'll start caring about the Wall again when Mance Raydar starts chucking giants at them. Usually how it goes.
More Game of Thrones on Dork Adore | Game of Thrones: The Laws of Gods And Men – Dork Review