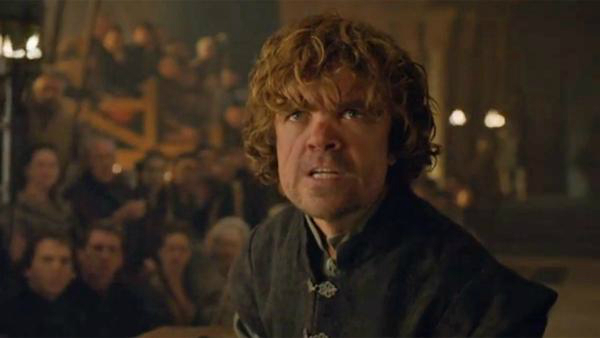 Although the last couple of Game of Thrones episodes kept all the stones rolling downhill, they perhaps lacked huge sequences. Big climactic end pieces which send us away satisfied that we've witnessed some major plot twist or huge action moment.
Last week had the showdown at Craster's between Jon Snow and the mutineers, but that never seemed like a turning point, more some routine mopping up. Well, this week, it's the trial of Tyrion for the who-could-blame-him murder of Joffrey. Spoilers: he didn't do it.
Requesting bank loans! Taking meetings! It's ADMIN TIME!
But before we get to that meaty sequence, we check in on a few sundry groupings. Over in Greyjoy land, Theon's conditioning at the hands of Ramsay Snow is laying waste to his sense of self. This storyline got pretty strung out last season, but this time they're using it sparingly and only when a real advancement happens. As a result, working much better. Curious to see what indignity will be heaped on Reek yet.
Meanwhile, Team Stannis go to ask for a loan at the bank. Despite a nice speech by Sir Davos and the fan-pleasing appearance of Mark Gatiss, inevitably a bit pedestrian. Fun recruitment moment in the spa/brothel afterwards though.
Queen Daenerys is discovering ruling can be a real drag. Nothing lifechanging in this sequence, but keeps her storyline going in its current direction. Far more fun was the subsequent council scene, where Lord Tywin and his minions discuss her status. Even without Tyrion, those up-and-down-the-table scenes are always watchable.
"Objection, your honour, the little turd utterly deserved it."
And then it's trial time, and although the first half of the episode bops along well enough, this final bit is fantastic. A season-finale worthy feat of tying everything together, bringing back all our favourite Tyrion moments from previous seasons and refocusing them to make him sound like as big a wanker as possible.
His brother Jaime tries his best to play the Lannister game of deals and debts, only to watch Tyrion crap it all up the wall, unable to contain his slighted fury after even Shae turns on him. Tyrion's "What about me, you ungrateful arseholes?" tantrum has been coming ever since he was sidelined at the start of season three, and the added twist of being on trial for murder only makes him go louder.
Peter Dinklage, relishing being the centre of attention for ages, pulls the most acting-angry faces he can, overplaying the rage. But since it's the culmination of a years-long storyline, just about seems warranted.
So, this would be a grade-A excellent episode just for the trial-of-Tyrion stuff, really. Curious to see where this goes now he's played the desperate trial-by-combat gimmick yet again. The other stuff has enough good lines to keep me interested in what they're building to. Go team. Another good week on Thrones.
More Game of Thrones on Dork Adore | Game of Thrones: First Of His Name – Dork Review