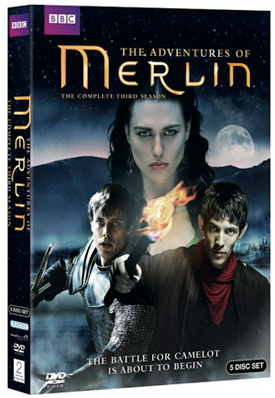 Recently, Merlin season 3 was released on region 1 DVD in the United States, and we were offered the chance to review the boxset. Yes, we're a UK-based site, but we love Merlin, so why not? Join us, as we relieve the year that saw Merlin battling ever harder to disguise his magic powers in the face of goblins, family secrets and the hidden-in-plain-sight threat of Evil Morgana!
Not to mention, the ultimate DVD set question: do you need to watch any of these bonus features?
Episodes – As Seen On TV
Of course, I've already reviewed every episode on this boxset for Dork Adore – click through to our Merlin tag, you'll find them there. But to summarise, this was the year that saw the show settle into a confident rhythm. There were many good episodes, although fans hungry for plot progress may grow impatient.
Still, the actors are comfortable in their roles by now, and they introduce some new characters who work well, primarily Gwaine and Elyan. Not to mention another return for Lancelot, and as I've established at length in past reviews, I love that guy.
Oh, and Morgana smirking at the back of crowd scenes. That's definitely the most memorable feature of year three.
Special Features – How Special Is Special?
Of course, for those of us who guzzled down the episodes when they were on TV, the special features are the big event. Merlin season 3 gives us the usual 'Making Of' film, packing 13 episodes of insight into 25 minutes. Some of it is fluff, but there are some interesting effects facts to be gleaned, as well as Colin Morgan's real accent, always more Irish than I expect.
Surprisingly, the "proper" documentary is outdone by the 2010 Merlin Comic-Con panel. I was cynical about a 40 minute table-sitting session, but both actors and producers are on witty, insightful form here. If you only watch one special feature, make it this one.
Aside from that, there's the usual deleted scenes and out-takes, from which we can conclude that Bradley James makes the most (or at least most amusing) mistakes, whereas Angel Coulby is beyond human failure.
Anyway, those are the extras, and let's not forget the episodes themselves. If you're a Merlin fan, there's plenty to get your hooks into. The US set came out on January 17th, and the UK region 2 version has been out for a while, so you can own it on DVD whichever side of the ocean you're on. But, sadly, the British edition doesn't seem to contain the Comic-Con panel footage, which means the American boxset may win this review.
More Merlin on Dork Adore | Merlin: The Sword In The Stone – Part 2 – Dork Review