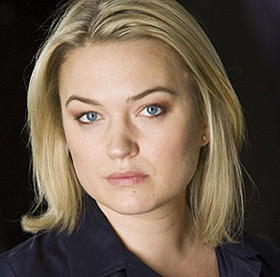 As if Spooks didn't already suffer from conspiracy storylines that make little sense, this week's tangled web is presented from multiple perspectives, in a loose homage to Rashomon.
Of course, it's always worthy of praise when an established series tries something a little bit different. Creative endeavour is a fine enterprise, not to mention it makes these reviews easier to write. But is Spooks going to reap the rewards of an adventurous spirit, or has their experiment created a hideous monster?
The Secrets Of A Theme
In fairness to them, they have got a plot which rewards the multiple perspectives. By seeing it from Lucas' point of view, followed by Beth's, we get the truth slowly unfolding before us like origami in reverse.
When they try to bring in a third perspective, however, it starts to feel superfluous. The last one really doesn't tell us anything, and we never really get into his head – there's a ten second montage, then it's back to the usual omniscient MI5 angle.
To be honest, they'd have pulled this off better if they'd resisted the temptation to hammer in named title cards and used the gimmick a bit more subtly. Especially because, much of the time, the headed individual isn't the perspective character for an entire segment anyway. Labelling them just gives pedants like me the chance to pick holes.
The Theme Of Secrets
Aside from the gimmickry, this episode also gives newbie Beth, played by Sophia Myles, a chance to shine. Happily, she annoys me less than she did review of last week's Spooks, as she shows depth beyond sass, and the intrusion of her past made the story more interesting. I thought they might be killing her towards the end, which would be a big twist in my Spooks death pool, but she pulled through.
Also harbouring revelations is Lucas, who appears to have both an ex and a name that we didn't know about. I thought we'd seen his ex-wife in a previous series, but I suppose a chap as good looking as Lucas might have more than one. Anyway, it appears secrets are the big theme this year. Next week, find out about Harry's dark past selling LSD to pensioners at the disco!
Anyway, I thought this was a strong episode by the end, even if the gimmick never quite stopped feeling gimmicky. Now, in order to provide similar multiple perspectives in this review, let us know what you thought below.
More Spooks on Dork Adore | Spooks – Series Nine Death Pool