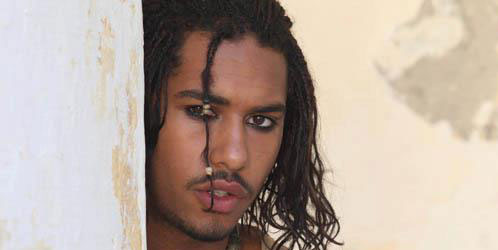 This week on Sinbad, most of the sidekicks are imprisoned on their ship by a voodoo priestess, who sends a monster made of coconut shavings after our hero. The man himself, meanwhile, is on the run with farmboy Gunnar. Unfortunately, the big G is suddenly kidnapped by ninjas, who reveal he is an amnesiac Viking warrior. And then the korma-killer turns up to eat them.
I didn't make any of that up – I'll give this episode credit for not being dull. But is that the same as being good?
The Coconut Monster Cometh
Well, no, not really, although nice to see pointless ninjas. And…  a thing that resembled the putties from Power Rangers, only made of coconut. The special effects on this show are impressive at times.
Even if they're involved in half-baked, vaguely sketched plots. The magic woman entering Sinbad's storyline is a welcome development, but all she does is unleash a bland monster and do psychobabble on the supporting cast.
And sadly said psychobabble doesn't work as well as it did last week. I don't need teases of a love triangle between rugged Sinbad, thief Rina and try-hard Anwar,  that sounds dull. And are they giving Anwar a "tattoos are bad" subplot? Will he freak out every time he nearly gets one? Are kids meant to be learning a valuable lesson?
This Is Not Just Bad, This Is Sinbad
The Sinbad/Gunnar plotline is more interesting, but has nowhere near enough space. Forced to share an episode with magic lady and her crunchy monster, the revelations of Gunnar's past and subsequent forced comparisons with Sinbad's (sudden, convenient) anger feel rushed.
Add to that: all the usual criticisms that regular readers probably know by now. The cast finally get a reason to stick together, namely being fugitives, but it's thin and doesn't explain why they've hung around for five weeks already. And yes, I still find most of them dull and one-dimensional.
So yup, another badly flawed episode of Sinbad, and why does it randomly have no title? There's an okayish version of an obvious storyline and a rushed version of a less obvious one. Recommend you spend the summer TV drought catching up on DVD boxsets instead of watching this. I'm two seasons into Six Feet Under, that's excellent.
More Sinbad on Dork Adore | Sinbad: House of Games – Dork Review