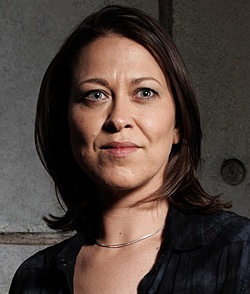 In these last couple of weeks, Spooks appears to have been pushing a subtle Cold War anti-Communist agenda. After last week's episode saw them face down the Russians, this time the Chinese are coming. Red Terror lives! Next week: the Cubans?
Tragically uninformed political commentary aside, this episode featured all the requisite triple crossing, ongoing subplot momentum, not to mention a rare chance for Ruth to do something other than fiddle with papers and gaze at Harry. And not a Missile Crisis in sight.
Is The Chinese Government Worse Than Terrorists?
The war on terror goes on hold this week, as MI5 yet again uncover a threat from a foreign government, a plot involving desalination technology and oil. I love Spooks, but sometimes the plots seem to be constructed by raving conspiracy theorists armed with fridge poetry.
More excitingly, two under-utilised staff members get some action this week. Firstly, new boy Dimitri finally gets a role beyond standing around looking pretty (although he does a lot of that as well). He seems like a very nice bloke throughout; in fact, it's still his only real character trait.
Oh, but he has one playful exchange with Ruth, so maybe he and Harry will be in a steel cage deathmatch for her love before the year is out. We can but hope.
Will Gazelle Survive In The Lion's Den?
Ruth herself, meanwhile, goes solo to infiltrate an evil corporation. I always enjoy the Spooks sequences where the deskbound characters go out and kick some arse, and this was no exception. Her adopting of the codename "Gazelle" was a little alarming, as everyone knows gazelles only appear in nature documentaries to get killed.
And, happily, we have some progress in the Lucas storyline, as the cuddly Richard Armitage does some unexpectedly nasty things. Since I believe this episode represents the halfway point of the series, hopefully this will be speeding up now.
In short, another well-stocked instalment, with some cool spying set-pieces. It saddens me a little that Ruth has an iPhone, and I wish they'd give episodes individual titles again to make my review headings more interesting, but otherwise it was fun. Watch it yourself on BBC iPlayer, and let us know if you agree.
More Spooks on Dork Adore | Spooks – Series Nine Death Pool