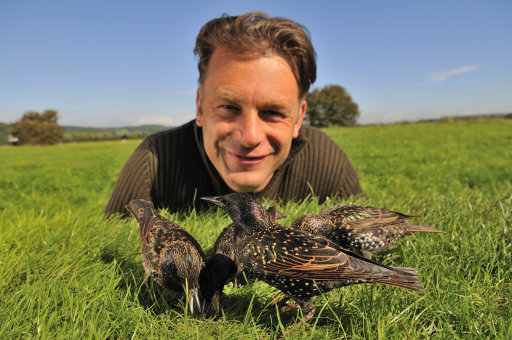 Those who follow this humble WWBW column will know that my particular dorkiness tends to display itself in the fact that I freaking love a nature show. Any nature show, really, but when you throw in Chris Packham — and therefore the possibility of a Morrissey reference at any moment — well, it just doesn't get much more exciting really.
I thought it was time for Springwatch actually, and maybe that's still on the way (one can only hope), but this new show from Mr Packham is instead The Animal's Guide To Britain, a programme in which he attempts to see Britain through the eyes of its non-human inhabitants. He started off with the animals that hang around our fresh water areas – rivers, lakes and, most lovely of all, ditches.
I'm being flippant, but actually this is a really lovely show.
It keeps up a great pace, and there are some neat 'infographics' to spice up the stats; CGIing in some over-head projector style acetate to show dragonfly distribution across the UK was my particular favourite — I told you this show is exciting.
And while Packham isn't everybody's cup of tea, I really do enjoy his enthusiasm and, hey, dorkiness, and nobody could doubt his knowledge: he can display passion for a dragonfly larvae's double-jointed mouth parts like no-one else.
We also see him bouncing around on an underground lake in this episode. I know! An underground lake here in the UK! Ok, so the 'ground' in question is actually a thick layer of moss, but it genuinely is dense enough for you to walk Christ-like across while, say, looking out for a cute little water-vole. We've got some pretty wonderful wildlife and habitats on our doorstep, and this series is an excellent showcase for it.
Rhod goes the extra mile
I don't often return to programmes here on WWBW, but sometimes your hand is forced, and that was certainly the case with this week's edition of Rhod Gilbert's Work Experience, which I first blogged about a couple of weeks ago.
Having previously given farming and butlering a go in this series, he turned to tattooing on Thursday, and it quickly became obvious that no-one was going to let him scrape a needle across their skin without him having felt what that's like for himself. And you've got to hand it to the guy, he didn't do things by halves. After flicking through the available designs — and an Argos catalogue — he finally plumped for this stunner: a battenburg on a cushion, on fire. That's a battenberg. On a cushion. On fire. Incredible.
He also got his nipple pierced. And he tattooed two people — but, frankly, I just sat there slightly dazed after he got his own ridiculous tat. I'm still slightly dazed now…