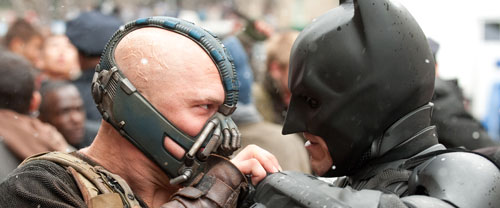 With only a month or so before The Dark Knight Rises, um, rises, the marketing campaign is moving into full throttle. We have viral scavenger hunts, trailers and TV spots in huge numbers and, finally, a free online Command & Conquer styled strategy game!
It's called The Fire Rises and it invites players to command their own tiny army of thugs around a landscape, shooting rival gangs, stealing stuff and evading the police. So, is it as good as that House game I was obsessed with the other week?
Bat-Command & Bat-Conquer?
The basic premise: spawn an army of little men, send them to fight against other little men at the command of metal-voiced villain Bane. And good news: the productive values are high for a free game. The Dark Knight was a massive success, so the sequel gets big marketing money.
So it looks like a real game, it does provide a challenge, and I got a sense of achievement when I finished, but the challenge lay more in the fiddly controls, bad camera and sense of remote detachment than the levels themselves. Of which there are only two, but you'd hope they unveil more as the movie nears? I can't find any firm commitment to this though. Oh, and the pretty graphics mean it runs slowly on some computers. Beware.
And yes, that rain-on-the-lens effect is very impressive, but by ten minutes in, you'll just want it to get out of the way so you can see your men.
So, no, The Fire Rises hasn't captured my heart like the House game did, it might distract you for half an hour if you're bored. Maybe even more once they finally do more levels.
And now, because it's as good an excuse as any, I'll embed the latest Dark Knight Rises trailer. Ooh.