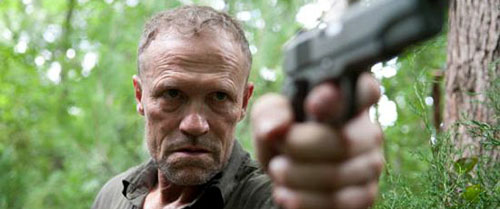 This season of The Walking Dead exists in two worlds: the prison, where most of our previous cast live, and the new town of Woodbury, populated by two villains and the least likable member of the old ensemble. I wonder if the residents realise they're living in an evil fortress.
But nonetheless, everything is about to collide, and this week's episode is mostly about making that happen. How elegantly can they pull it off?
Merle Is His Own Phallic Arm
The big plot scenes centre on Merle Dixon trying to kill Michonne, failing, so settling for kidnapping Glenn and Maggie instead. As well as moving things along, these scenes solidify what we all suspected about Merle: he's still a dick.
Before this, we might've believed the big guy just had a quick temper, but once he's executed his own man, held a gun to Maggie's head and lied to the Governor, that settles it rather. In some ways, it's sad, because it reduces the ambiguity of his conflict with the heroes. Inevitably, he'll meet them, Daryl will be conflicted, but still kill him. Still, Michael Rooker makes it fun to watch.
My thoughts on Michonne are unchanged from last week: it would be nice if she had some depth beyond sulking and slaughtering. At least her scenes this time are action-heavy, which makes it less conspicuous. And all the stuff here was kinda mechanical and necessary to bring the two sides together. The nuts and bolts are showing, maybe, especially in the massive coincidence required to have Merle just bump into Glen and Maggie.
Rick & Daryl Are Surviving On Acting Alone
In the prison, we're mostly wrapping up plots from that massacre the other week. Rick emerges from his feral growling, a storyline which worked better than it had any right to, mostly due to intense acting from Andrew Lincoln. The phone call device in this episode also stopped it getting samey.
Oh, and Carol isn't dead. Once again, not the biggest revelation, but Norman Reedus's performance as Daryl does a lot for these bits. Once more, we're working towards making Daryl a leader with feelings, to bring out the differences when he runs into Merle again. Looking forward to that confrontation – hopefully it won't disappoint.
Lastly – and yes, this was a packed episode – the Governor and Andrea consummate their weeks-long flirtation. I suppose it gives the latter divided loyalties when the two sides clash, but this still feels like one storyline that's killing time, and doesn't make up for it on execution either.
But never mind, it was only a few scenes and the wait is damn near over. Midseason finale in two weeks, and I admit, I am excited.
More The Walking Dead on Dork Adore | The Walking Dead: Say The Word – Dork Review