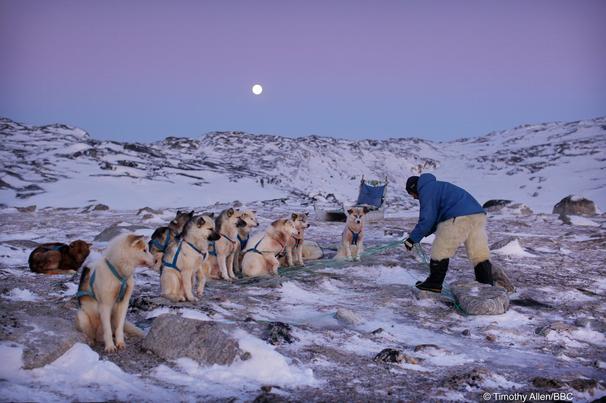 It's taken me a while to get around to mentioning the BBC's latest flagship nature (anthropological?) documentary Human Planet, but it deserves its place in the revered WWBW archives. It's fascinating, beautiful to look at, and the sort of programme that makes you think, ok, mankind can be thoughtless and violent and idiotic at times, but we can also be ruddy clever when we put our minds to it…

Animals can only survive in environments they're physically adapted to (silly animals) but we use our nous to allow us to exist wherever we like, from Saharan deserts to the focus of this week's episode, the Arctic.
What's great about this series — and it's something that happens increasingly rarely on television simply because there's so much of it — is that every week you see things, people, ways of life of which you (or at least I) had literally no knowledge. That's good telly right there.
This week we met fishermen in the Arctic who rely on their dogs to pull them around the tundra in search of  the Greenland shark, a fish which swims so deep their line has to be 800 metres long; that's twice the height of the Empire State Building, as we're helpfully told by narrator John Hurt.
In Canada, the tide goes out so far that 'mussel-hunters' can actually crawl under the remaining sea-ice and harvest mussels straight from the seabed. Elsewhere, reindeer swim an incredble 2.5 km across a river that is barely above freezing to reach more fertile ground, the Inuit hunt narwhal from kayaks, and in Greenland we see a man catch little auks straight out of the sky with a net.
It's brilliant stuff that has clearly been months, probably years in the making, and with episodes on the jungle, grasslands, mountains, rivers and cities still to come, there's lots more for eager minds yet to discover.
TV that won't ruin your life
You can see how How TV Ruined Your Life came about: "Screenwipe is great, but limiting it to recent telly is, well, a bit limiting, eh? Imagine the fun we could have if we expanded it to the entire history of TV! It'll be like Screenwipe but *better*."  Well, it's like Screenwipe but the same, really, but then that's no bad thing.
Each week, the (pretty much deservedly) ubiquitous Charlie Brooker takes a particular theme and explores how TV has affected how we react to it, or messed it up for us. We started this week with Fear, which gave Charlie the chance to dive into the archives and show clips from those genuinely distressing 'take care, try not to die' public service programmes that used to grace our screens — and still do, to some extent. The most disturbing was one which tried to help us survive a nuclear explosion, and said that, good news, whitewashing the windows would keep you safe. For 18 seconds. After which your face would melt.
There was a bit of science in there too, with references to experiments which show that people who watch a lot of telly genuinely are more likely to be fearful of the big wide world, but in the end, this is an excuse for Charlie to sit in his oddly reconstructed flat and spit out those wonderful similes of his.
Arguably he's doing rather better and more important stuff over on Channel 4 though — this week's episode of 10 O'Clock Live was even better that the first. There are still niggles, but it's moving in the right direction, and from a highly promising starting position.