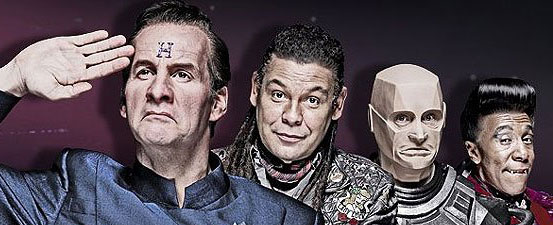 The latest episode of Red Dwarf X has aired! After last week's pleasant surprise, did this second episode continue the trend of being quite good, or was it a devastating return to the ropey form of recent series?
Well, it hedges its bets nicely. As before, you can attempt to watch this on the DavePlayer, or whatever they're calling it.
Dave Lister: Family Tree The Shape Of A Pretzel
Last time, I praised Team Dwarf for avoiding the continuity quicksand generated in previous years and cracking on with the task of comical space-bum antics. They are surely mocking me by tackling some weird past continuity full-on this week.
I refer, of course, to the series seven revelation that Lister is his own father. Which is strange and, even by TV comedy time travel standards, ridiculous, but if you're going to use it, this is the approach to take. Announce the premise, token explanation, then mine it for jokes without worrying too much about the why.
Craig Charles is both having fun and playing the deadpan bits amusingly straight, and after the Rimmer family angst last week, it was definitely his turn to get a "proper" storyline. The nature of the plot did rather cut him off from the other characters, whereas last week's Rimmer plot was more inclusive, but it was still funny.
Pree: She-Queeg?
Elsewhere, Rimmer and Kryten meet Pree, the terrifying new ship's computer. This is eerily similar to series two episode Queeg, but since it's very much the secondary plot to Lister's father/son self-angsting, it does the job. Chris Barrie gets some good laughs riffing off Pree and Kryten on his character's uselessness. Does make me miss Holly (the original computer character) though.
There's also a strange C-plot about Chinese whispers, which has a couple of good laughs. The Taiwan Tony character is straddling the line where "ironic racism" becomes actual racism, but the show as a whole is so likable and good natured, I don't have it in me to really worry about it. I'm sure they didn't mean to hurt anyone.
So, yes, this was another decent episode. The first one hung together better as a whole, but this was funny in its scattershot way. Once again, it's a very old fashioned kind of sitcom, but you just want to cuddle them all. Well, maybe not Lister. Looking forward to next week.