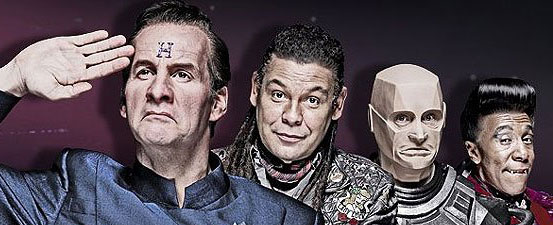 Halfway through this all-new all-modern Red Dwarf series, we get the first location shoot. So far, it's been all budget-saving onboard action, which has boosted the old-school early years feel of the comedy.
So, now that they've dared to leave Red Dwarf, has the spell been broken? Find out yourself on the Dave website, then read on…
Jesus Takes A Gap Year
This week, the crew meet Jesus, and to be honest, it felt like a sitcom version of one of those episodes of Doctor Who where they bump into a historical figure. Only more jokes, obviously, and near-the-knuckle content, whereas Who tends to play it safe. But not here, no: we're right into wisecracks about religion!
To be fair, Lister does make counters to the smarty-pants remarks about it causing wars. And I laughed at most of it, right up to and including the big climax where they discovered the "truth" about Jesus, and then the inevitably Rimmer-bashing punchline.
Although I was disappointed they spent ages in "India", yet never had Lister do any jokes about curry.
Lister's Spleen Goes Back To Uni
There was a particularly good run of laughs around the two-thirds mark, I thought, coming out of the surgery, not to mention the horrifying reveal about Lister's previous operations, paying off the very first scene. And for anyone who accuses this of being dated humour: Fresh Meat two days ago did basically the same joke.
Oh, and I thought they got more laughs out of Kryten this week, which was nice to see. He hadn't been given many moments in the opening two episodes, and Llewellyn always plays them well. Chris Barrie's Rimmer also having a very good series, dead in character and funny – particularly liked his extended calculator bit.
In summation, then, a lot to like about this for fans, even if it isn't changing the world. I wasn't bored or unamused, and again, it's just so old-school and charming. I'm not sure the highs were quite as funny as those of the first two, but on the other hand, it also didn't have any plotlines that didn't entirely work for me (see: last week's Chinese Whispers thing), so fair enough. Only three to go! Don't screw it up!
More Red Dwarf on Dork Adore | Red Dwarf X: Trojan – Dork Review