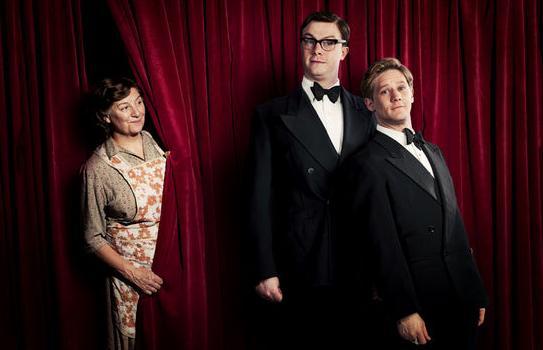 The TV BAFTAs (or, as we're meant to call them, the British Academy Television Awards) are, I think, the really prestigious awards for that there telly-box, so it was pretty wonderful to see some of the shows we've celebrated here on Dork Adore come away with a golden mask this weekend. Let's look back at a few, shall we?
First up, huge kudos to the Academy for recognising Daniel Rigby (Best Actor) who shone so very brightly as Eric Morecambe in the Christmas biopic Eric and Ernie. Up against the likes of the Doctor himself Matt Smith, and the excellent Benedict Cumberbatch, he could easily have been overlooked, but frankly it was the sort of performance that simply doesn't come along very often, and as such I am just delighted that he won. Here's a little taster…
I liked that programme. Quite a lot. You might have noticed.
A-ha! A win for Coogan
Another programme which I've often praised here in What We've Been Watching — right from the first, low-key episode — is BBC Two's The Trip. A real looker of a sitcom thanks to Michael Winterbottom's glorious direction (not to mention the English countryside), it also made me laugh out loud consistently, even when watching on my own, and it had the capacity to really get people discussing the characters — unusual for a comedy show.
The programme itself actually missed out to Rev (no real complaints there, it was a great show with an excellent cast including Tom Hollander, Olivia Colman and Miles Jupp) but Steve Coogan was, I would say rightly, rewarded for his own superb performance. Want to see him in action? Sure you do.
Best of the rest
Elsewhere, I was very happy to see Martin Freeman get the award for Best Supporting Actor for his impressive turn in Sherlock; though his "distinctly unimpressed" face when The Only Way Is Essex took the Audience Award was also rather gong-worthy. I would have liked Downton Abbey to be recognised, but that Drama Series category wasn't half strong — the ITV period drama was up against Misfits, Being Human and the winner Sherlock (bit of a theme).
It was a shame too that the brilliant Human Planet had to miss out, but when a Flying Monsters 3D producer pointed out that Sir David Attenborough's involvement means he can boast awards for shows in black and white, colour, HD and 3D, you could hardly begrudge him that unique honour.
Next week, there's a new Adam Curtis documentary to sink our teeth into, and Paul Merton takes us through the Birth of Hollywood.