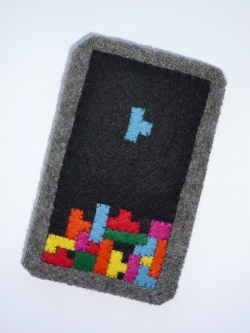 So the last couple of months have been a bit rocky for Apple. They finally released the iPhone 4….only to discover that the aerial is basically botched.
Still, it's not all bad. The aerial only refuses to work if you place your actual hands over it. Y'know, like when you use a normal mobile phone. All you need to do to avoid the issue is by covering up that nice shiny glass case with another case to stop any of that unwanted direct contact.
The 'bumper' Jobs is offering is understandably basic (considering he has to give millions out for free), and the alternative options are hardly inspiring either. So, if you have to use the dull bumpers, why not splash out on a new case to store it away in?
This Tetris iPod iPhone Case Pouch Cozy on the right is from Etsy sellar Egoor England. Thanks to Etsy's latest decision to convert all their prices to Pounds for British visitors, it's easy to see that the case will cost you just £14.17 (plus £1.29 for postage in the UK).
Here are four more beautiful iPhone 4 cases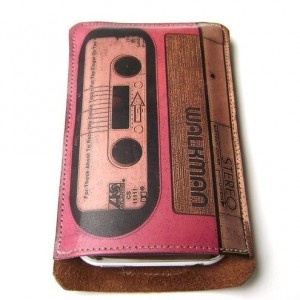 For retro music fans
Over on Folksy, Beautiful Skin has a selection of stunning leather skins to pimp up your your favourite gadget. You might remember that we featured one of their cases in our round up of iPad cases a few weeks ago.
This retro radio cassette-style leather iPad case has a suede inner, so you can avoid any soul-destroying scratches to the screen.
The handmade case is only £20, with £1.75 p&p
For Whovians
This Doctor who iPhone sleeve is by CrankCases, who clearly has an affection for all things dorky when it comes to designing iPhone cases.
The range also includes some very British designs, like the mix-tape design, a case disguised as a 20 pound note, and a classic red phone box.
The cases are £13 each. They're made of sustainable materials too, so you get that nice eco-friendly glow too.
For film geeks
Anyone who grew up loving cult movie The Princess Bride will appreciate this name badge case from Inigo Montoya. If you haven't seen it you really should watch it. It's got giants, swashbuckling and wizards. What more do you need?
It's from Etsy user CoolBeans717, and will cost you £12.89 plus p&p.
For magpies
Finally, we've got some bright and beautiful cases from Coach. They're not massively geeky, but even geeks need a bit of bling sometimes. These universal cases are $58 each. I've got my eye on the gold one.
Seen any good iPhone 4 cases recently? Let us know in the comments