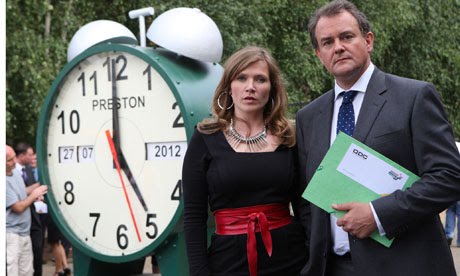 When the writer of Twenty Twelve, John Morton, came up with the idea of a clock that counts down to the Olympics ceremony, he may have known that one actually was in the pipeline, but he couldn't have known that his show would get such a lovely PR boost from the real-life version breaking after just a few hours… It's The Thick Of It's blue-movie-on-expenses premonition all over again.
Twenty Twelve is a bit of an odd beast. On one hand it's very of its time, as it's about a fake (but you suspect all-too-real) Olympics deliverance committee, but on the other it feels strangely dated.
The mockumentary style, with David Tennant narrating, doesn't do it any favours — perhaps The Office killed the genre as soon as it popularised it (but certainly didn't invent; Morton himself penned Office-predecessor People Like Us).
But that's not to say there's nothing to enjoy here.
Twenty Twelve's biggest asset is its two leading performers, Hugh Bonneville and Jessica Hynes.
Bonneville might be best known as a straight actor but he always brings a wry humour to his roles, even in Downton Abbey, and actually it's precisely because he plays Head of Deliverance Ian Fletcher straight that he works so well — as everyone else around him is a bit of an exaggerated buffoon. He, on the other hand, adds a veneer of competence to Fletcher's own buffoonery.
Queen buffoon is Siobhan Sharpe, Head of Brand and director of Perfect Curve, the PR firm inexplicably given the job of putting a positive spin on the bumbling efforts of the deliverance committee.
Brilliantly played by Jessica Hynes (seeing her back on TV is stupendously exciting for me, by the way) she is the ultimate publicist nightmare: obsessed with style over the admittedly little substance she has to work with, ditzy, humourless and basically full of crap.
Twenty Twelve may not be essential viewing, but seeing Siobhan's wall of BS meet the dull pragmatism of Ian Fletcher is a lot of fun.
Not much 'comic'… but £74m for charity
It always feels a bit churlish 'reviewing' a telethon, especially one which raises a frankly astonishing £74,000,000, as was the case with Friday's Comic Relief. So let's just take it as read that generating that amount of money is an incredibly good thing, and carry on regardless.
I'm generally uncynical to a fault when it comes to Children in Need and Comic Relief, but even I had to admit that the 'comic' element of Friday's proceedings was strangely absent. The spectre of Sachsgate still hangs over the Beeb, I fear, with no live stand-up taking place until five minutes from Jimmy Carr at midnight, and little more after that, other than a great performance from comedy band Axis of Awesome, which could have gone out pre-watershed in any case.
If you don't care whether there's a distinction between CiN and Comic Relief though, there was quite a lot of fun stuff here.
James Corden's long sketch, which brought together two Beatles, Rio Ferdinand, Ron Weasley, Gordon Brown, Justin Bieber and more may be uncannily similar to Jimmy Kimmel's, but was still an incredible feat of logistics, and the Downton Abbey spoof featuring Victoria Wood, Harry Enfield and Jennifer Saunders was brilliant.
I crashed out at 1am, but that meant I just caught a lovely remake of Goldie Lookin' Chain's remake of New York State of Mind…
Next week… looks quite rubbish, actually. Oh dear.