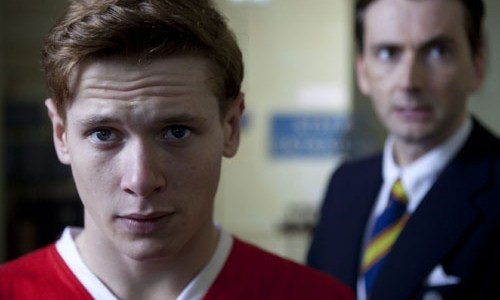 Football and The Beatles – these are two things I like very much. As such, it's is a highly self-indulgent WWBW this week, with the Munich air disaster drama United and Arena documentary Produced by George Martin both featuring. Sorry…
Let's start with United, then, a Chris Chibnall-penned feature about the aeroplane crash of 1958 which killed eight members of the Manchester United team (nicknamed 'Busby's Babes' after their manager Matt Busby) three staff, eight journalists travelling with the squad, two other passengers, plus the co-pilot and steward. A true disaster, and an event which has been described as the 'Diana' of its day, such was the outpouring of emotion that followed.
This drama was the quintessential mixed bag — some wonderful moments and performances butted right up against a few woeful lines and odd decisions.
In terms of the good aspects of United, its greatest asset was undoubtedly Jack O'Connell. As a 20 year old Bobby Charlton, he gave a subtle and unshowy but hugely affecting performance. Sir Bobby, of course, survived the crash, but had to deal with the trauma of seeing his friends perish, and this was all expertly portrayed by O'Connell. The direction, too, by James Strong was excellent — the late 50s era was evoked brilliantly without the references being heavy-handed — and David Tennant, who played team coach Jimmy Muphy, did his usual trick of casually throwing in a couple of moments which expressed sheer heartbreak.
The problems generally came with the script, which sometimes felt it needed a sledgehammer to get its point across; clunkily introducing the characters over the course of the first half hour. Plus, telling the story so completely through the eyes of Charlton and Murphy resulted in many figures becoming mere footnotes — inevitable, perhaps, but still slightly uncomfortable. Overall though I did have to choke back a couple of tears, and O'Connell's performance alone made it more than worth watching, it's just a shame it didn't generally sound as good as it looked.
A day in his life
You're in quite an elite little group if you can say you were the true Fifth Beatle but George Martin, along with Brian Epstein and Billy Preston, probably has one of the strongest claims. As producer and arranger for The Beatles, he has gained legend status in music circles, but this documentary — Arena: Produced by George Martin — was at pains to show that there's more to Martin than those four fab lads from Liverpool.
He started out wanting to be 'Rachmaniov II', as he puts it, and stayed that way for some time, even when called down to work with Parlophone and producing the likes of The Goons, Bernard Cribbins and Peter Sellers – "I didn't realise it then", says Rolf Harris, "but Martin was the man they sent all the 'weirdies' to." Within just a few years, though, he was head of the label; he may be softly-spoken (though, we discover, his RP accent was learned rather than inherited) but he was clearly an ambitious young man.
It has to be said that Martin's own tone imbued this documentary (by which I mean it was a little on the sedate side) but it did give a genuinely rounded insight into his life, and it's great seeing him chatting with icons of the time, including Paul McCartney, Ringo Starr and Michael Palin. A fine portrait of a fine man.