A quirky zom-rom-com with a largely unknown cast, starring Skins alumni Nicholas Hoult and John Malkovich doing what he does best (…. being John Malkovich of course). All the ingredients are there, but does this book adaptation translate to the silver screen?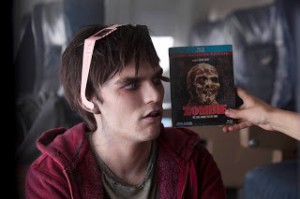 The Specs
Director ~ Jonathan Levine
Screenplay by~ Jonathan Levine, based on the novel Warm Bodies by Isaac Marion
Starring~ Nicholas Hoult (R), Teresa Palmer (Julie Grigio), Rob Corddry (M/Marcus), Analeigh Tipton (Nora), John Malkovich (Col. Grigio), …
Run time ~ 97 minutes
Certificate ~ 12A
The Story
The movie is set a few years after a zombie apocalypse infects most of the population of Earth. R, a zombie, spends his days wandering aimlessly around (at a slow pace, which he laments) an airport terminal, along with several other zombies. His only friend is M, with whom he communicates through a series of grunts, moans and semi-formed words. On a scouting mission for food (so, brains), R encounters Julie Grigio and some of her friends, who have been sent out on a mission to provide supplies to the walled community of survivors they belong to. R is instantly attracted to her, and watches her from across the room.
R craves human flesh, especially brains, as he is able to feel alive through the memories of the people he feasts on. So during the encounter, R kills and eats Julie's boyfriend Perry (and his brains) while she is distracted, causing him to feel even more attracted to Julie. He saves her and takes her to his hideout (an airplane full of hoarded bits and bobs). Julie and R bond, but will he ever let Julie go?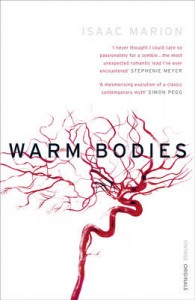 Rise of the Zombies
I remember first laying hands on a copy of Warm Bodies at my local Waterstones and thinking that it sounded brilliant. It's in its essence a zombie-fied retelling of Romeo and Juliet (going as far as naming the characters R and Julie and having a balcony scene), which is what makes it a curiosity among the films out this month. Between the pompous grandeur of Lincoln and the looming silhouette of the Master of Suspense, Warm Bodies feels like the obvious outsider.
But it's nice to root for the outsider. And Warm Bodies is a little film to root for. Nicholas Hoult is brilliant as a shuffling, slouching and monotone zombie, proving that he's come a long way since the heydays of Skins (God, I loved that show). The rest of the cast does a fine job of it too, consisting mostly of relative unknowns (barring Mr. Malkovich). There is even a role for former America's Next Top Model finalist turned actress Analeigh Tipton, who plays Julie's best friend Nora.
Official Trailer
Although not a piece of brilliance, Warm Bodies is comfortable like a woolly sweater, while at the same time it manages to be just a tad unsettling. The film benefits from a strong third half, which sees the action ramped up a gear or two. If that pace had been kept throughout the film, it would have definitely been a must-see.
I'd say go and see it while you still can. It is what it is, and what it is is a lovely movie with a bit of gore on the side.
Now if you'll excuse me, I think I might just go and read the book….