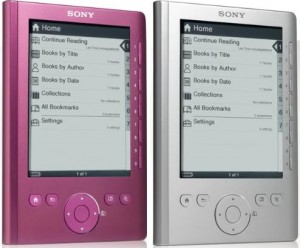 I've been reviewing the Sony Reader Pocket Edition (£159 from WHSmith) for the past few weeks and I'm sold. But if you're wondering if you can justify spending so much money on a gadget that essentially does the same job a book has been doing for the past few hundred centuries, here's some fodder for your pros list.
1. Save some paper
There's still quite a large debate over whether the manufacturing process in producing these electronic books actually produces more carbon than you'll save using it, but paper doesn't just waste trees, the process of making paper is also extremely polluting.
So long as you're not planning on upgrading every year, an ebook uses a lot less power than a laptop, and should work out more eco-friendly in the long term.
2. Give your eyes a rest.
I have to edit a lot of articles and books, and using the Pocket Reader has saved me from printing out and lugging round huge great piles of paper.
The fact that you can use this to read long documents is a big plus point. Sure, you can do that on a computer, but getting away from a LCD screen and onto a lovely ebook screen is bliss. And there's something about the book-sized gadget that makes it all seem a bit less laborious.
By the way, if you're likely to use yours for proofing, you might be better off with the Touch, so you can annotate directly on screen. Check out writer-illustrator Viv Schwarz's review of her Sony Reader for some inspiration on how you could use yours.
3. Catch up on the classics
Project Gutenberg means that you can access a huge database of free ebooks and since many of them are out-of-copyright classics, you can fill up your ebook reader with some masterpieces and do a spot of self-improvement.
4. Treat yourself to some special editions
Ebooks aren't going to kill off real books – not just yet anyway. But now you've got the perfect excuse to ditch the pulp fiction paperbacks and treat yourself to some really special hardbacks and limited edition books. Instead of filling your book shelves with countless holiday reads, you'll be able to spend time building up a library of beautiful literary delights. The Folio Society would certainly be pleased.
5. Free up some space
Whether it's your bookshelves or your suitcases, you can clear your cupboard space and take just one electronic book away on holiday instead of 10 dog-eared novels.
Bought an ebook reader? How did you justify the purchase?
Check prices of Sony Reader on eBay