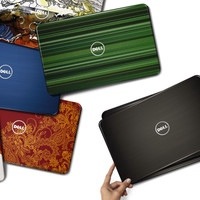 I've long been a fan of Dell, despite my growing collection of Apple products. The brand's laptops are reliable, quick and do exactly what you want them to do.
Now, with the release of the Dell Inspiron 15R, you can make your laptop look good with a collection of snap on covers.
The Inspiron 15R is designed to suit work and play needs. It's got a HD screen, in-built webcam and optional Blu-ray. The biggest draw for this model is the ability to change the laptop cover whenever you fancy.
For someone as fickle as me, this is a great idea.
If you're heading to a business meeting, you can click on a professional cover before slipping your laptop into something more comfortable once you're home.
Additionally, I love the keyboard on this one. It's compact, but I find it really easy to type on without accidentally mashing several keys. It does take some getting used to if you're used to a full keyboard.
The Inspiron 15R is available from Dell from £429 (inc VAT and delivery). You get one coloured lid, and you can buy additional styles.