May sees the return of everyone's favourite New York cop-turned-vigilante – Max Payne, in the multi format Max Payne 3. So Rockstar Games have decided to take us back to where it all began with a mobile version of the world's first taste of Payne. Question is – is it any good?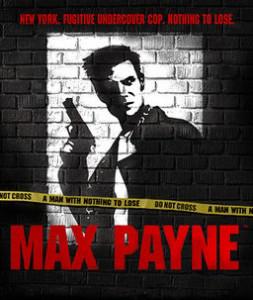 Max Payne was originally released for Microsoft Windows in 2001, before being ported to both PS2 and Xbox several months later. You take the role of the titular protagonist – a hard boiled undercover detective for the New York Police Department, who's attempting to infiltrate the Mob to combat the latest drug that's seizing up the streets of the city and avenge the brutal murder of his wife and child. Light stuff I'm sure you'll agree.
The game itself is a third-person action shooter, but what separated Max from the crowd was its style and pioneering use of bullet time gun-play. Obviously you can't mention bullet time without mentioning The Matrix, and you can't mention The Matrix without mentioning John Woo – and that is precisely where the bulk of Max Payne's aesthetic is drawn from, all combined with a healthy dose of classic film noir and pulp fiction, and not a single dove in sight. Duel-wielded pistols, slow motion diving, and bullet paths are all present here as Max murderises his way through the various levels of criminality and corruption that plague New York City. Slow motion shooty-shenanigans are a staple of action games these days, but this is where it all came together.
Fans of the original will delight in the fact that the full 10-12 hour campaign is here in its entirety, with the graphics optimised to run on handheld devices. However, it's no secret that gaming on smart phones, whilst popular with the casual market, is no place for playing full games like you would on your home console; control schemes are usually fiddly and detract from the experience.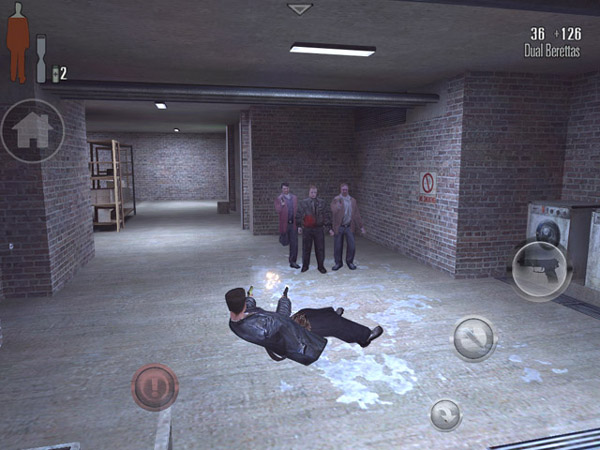 Rockstar have clearly put a lot of thought into exploring solutions to this and have offered a pretty comprehensive level of customisation here. Spending some time in the tutorial and the settings, adjusting and tweaking the options will yield a style and layout that suits your preference. It's pretty awkward to control a camera with virtual thumsticks, so there's a handy auto-aim feature that can be tweaked from full lock to free aim. Also shooting and jumping can be changed to static buttons or screen taps. The virtual buttons can even be moved around the screen to positions that suit your style.
All these options are great, but they can't mask the fact that this is a game built for a full home console or PC. Auto-locks and moveable buttons are all very good and all, but they fundamentally change the way the game is meant to be played, as without these options switched on you'll spend most of your time emptying clips into the walls and ceiling. The title's USP is the bullet time gun fights – jumping into a room and taking out a handful of thugs with precision shots was a pleasure that no game had captured before – one so powerful it's become a standard, and sadly this just proves just a little too much to recapture.
Having said that, Max Payne is still great fun, and at just £1.99 it's incredibly hard not to recommend given the level of quality you get for the price. Anyone that loved the original should check it out, as should people that love to play in depth story driven games on their mobile. Max Payne is an absolute bargain, and better yet Mark Wahlberg is nowhere in sight!
Max Payne is currently available on Apple iOS, and on Android from 24th April. Buy it!