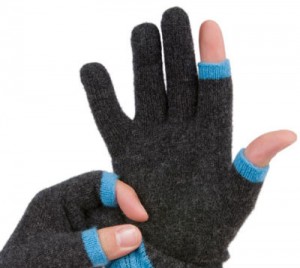 It's cold. There's no escaping it. While hats are good for heads and scarves a necessary neck accoutrement when you're out and about, gloves and gadgets just don't go.
Ever tried using your mobile while wearing mittens? Not easy. And it's a slippery job to interact with your iPod when gloved up.
Now, interactive digital agency Etre reckons they've come up with a solution, and it's a simple one at that.
What is this solution? A pair of gloves (100% lambswool, made in the UK, natch) with the tip of the thumb and index finger missing so that you can easily get to grips with your gadgetry. Kind of like fingerless gloves that haven't fully committed one way or the other.
Etre Touchy gloves come in men's, women's, youth's and children's sizes in four colour combinations priced at £19.99 from
I think they look pretty cool and am sure there are other applications for which having a semi-naked thumb and index finger could come in useful.
No, not that. I mean like finding keys and opening your front door, counting out change on the bus – that sort of thing. Anyway, moving on…