I write a lot, and I use the iPad a lot, but rarely do those two pursuits combine.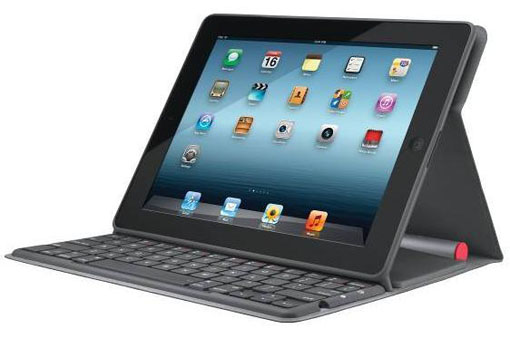 The iPad's keyboard has always been fine for Twitter and searching the web, but for anything else it's been a bit useless – no arrow keys (a necessity for a writer), slow-forming apostrophes, and just an oddly unsatisfying experience.
The Logitech Solar Keyboard Folio Case for iPad (£119.99) completely changes that.
The keyboard serves as a case/stand, which has two angle options for typing or watching media. I found it less useful when lying in bed, where I wanted even more tilt, but then that's not what it's for (although who doesn't use their iPad in bed?)
This Keyboard turns the iPad into a device that can be used for serious work. I could take it to a cafe, or sit on a train or plane and actually get a lot done.
About the size of a Spectrum 48k keyboard – using it brought back some lovely memories! – or a netbook keyboard if you're not as old as me, the keyboard feels lovely to type on and adds all the things you'd expect in a real keyboard. The keys may be a little small for chunky fingers, but you do get used to it.
It has a few shortcut keys – though you'll definitely still be using the iPad's touchscreen to navigate – and it uses bluetooth to connect, leaving the iPad input socket free for other uses. It even has a solar panel to keep charge, although that is facing the desk when in use, so you'll need to give it sun time at some point. (That's maybe not so easy in Britain, though I've used it a lot over the past weeks and I haven't had it run out.)
The case against
It's not a great case for your iPad, however. The outer cover buckles easily under pressure and won't provide much protection in a bag. If you want to use the iPad without the keyboard, it's not easy to turn the case round as you would a normal folio. You could argue that it wasn't designed to do either of those things, but since it's going to take the place of your normal case, I wish it was – especially considering the price.
So yes, if you want to turn your lovely lightweight and very portable iPad into a laptop, this is a great accessory to do just that. But don't go giving your standard iPad case to charity just yet.
Official Logitech Solar Keyboard Folio page