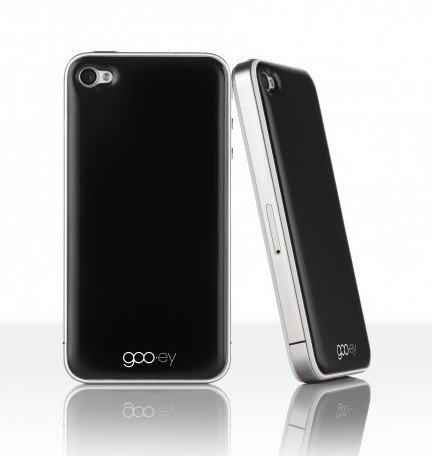 As if tech wasn't enabling our Netflix addiction enough, here come the rather fun Goo.ey skins, which are essentially sticky backs for phones, iPads and the like. The Goo.ey skin sticks on the back of the phone allowing you to safely and (most importantly) confidently attach your phone to any flat surface, glass, mirror or bathroom tile.
So far I have watched Sky Sports News on SkyGo in the shower by sticking the iPad to the tiles by the shower controls (they're away from the water, don't worry.) and have had a shave with the iPhone stuck on the mirror listening to the iRadio. Plus, I've had it stuck to the gym bike securely, for a change!  It is currently sticking the iPad to the fridge whilst the kids enjoy another viewing of Toy Story.
The Goo.ey skin is very simple to stick on the back of the phone and lines up easily. Once applied, it does not get sticky or dusty, relying on a perfect contact between it and any smooth surface.  It leaves no residue when removed.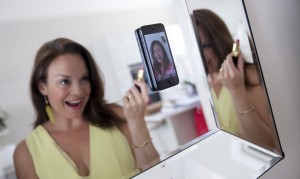 One word of warning… I unpeeled the back of my iPhone and left it on the bathroom mirror because the goo was so safely bonded. However, my iPhone is on its third new back having had a hard life in the gym and with kids (it snapped back on no problem)!
I'm not sure what kind of  protection the Goo.ey skins provide, but if you're not sure about just sticking a skin to the back of your phone, they also do a collection of cases (There's a list of instructions on the website itself, by the way). One thing's for sure: it is certainly a talking point at gatherings with friends. I'm definitely not going to need a new back for my iPhone – my Goo.ey Skin will do just fine!
Compatible with:
iPhone 4 & 5
Samsung Galaxy S2, S3 & S4
Samsung Galaxy Note 2
iPad Mini
iPad (all generations)
Samsung Note 3
iPhone 5S
iPhone 5C
HTC1
You can buy Goo.ey skins from the following places:
For more information see www.gooeyskins.com