Fun fact: it is (almost) impossible to go shopping these days without seeing Loom Bands on sale.
You may think I'm being a bit OTT here, but go out and see for yourself. They are everywhere, having exploded as this summer's big Kids Trend Thing.
Also, much like Pokémon cards, Tamagotchis and jacks before them, Loom Bands are a firm favourite on the playground, hugely popular with boys and girls across the world.
Pretty neat for what is essentially a collection of coloured rubber bands.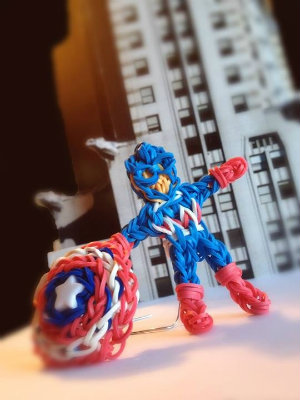 But, oh, what versatile rubber bands they are. Apart from friendship bracelets and depending on your level of skill, you can make things ranging from key chains to a Loom Band Captain America.
Yes, really.
I've found some cool ideas to get you started, whether you're a beginner, a more advanced loomer or a loomer… ninja? Superstar? I don't know, but my hat goes off to you if you're able to make these without breaking a sweat. So, get your Rainbow Loom and your Loom Bands out and start cracking.
For Loom Band novices
You'll quickly come to thank the people at Rainbow Loom Instructions, as they're a great source for just about any type of Rainbow Loom/Loom Band tutorial. If you're a beginner, a great place to start is this two colour flower charm tutorial. 
From there, you can move on to this cool flower ring, and try out the Tuliptopia bracelet. If you're getting confident with your looming skills, maybe you can have a go at this Hello Kitty? And finally, if you're absolutely sure you've mastered the basics, this headband tutorial is for you. The bonus in this video? You're being taught by two really cute kids, with mad Rainbow Loom skills.
For intermediate loomers
It may not be edible, but this sushi roll charm is absolutely adorable. From there, you can move on to show your allegiance to Tony Stark by way of this Iron Man bracelet. And this cute Pokéball charm tutorial is really a must-make.
Finally, if you by now quite fancy making something difficult, look no further than Smurfette in this video tutorial by MarloomZ Creations.
For hardcore loomers
Advanced loomers rejoice, as I've found three brilliant YouTube channels packed with tutorials for making the most insanely amazing Loom Band creations.
Clear, precise instructions, with videos that take their time so you can make your creations along with them. DIY Mommy has tutorials for Rainbow Loom and Loom Band charms, rings and bracelets, suitable for Crazy Loom and Fun Loom as well.
How to make a Rainbow Loom Pikachu
This is possibly one of the best craft channels I've ever come across. It has plenty of crafty inspiration, with Loom Bands and Rainbow Looms as its main feature. The big draw here is A's Disney Princess series, with tutorials on how to make your own collection of Disney Princesses from Loom Bands. They are not at all for beginners, but if your looming skills are advanced and you fancy a challenge, this is for you.
How to make a Loom Band Queen Elsa (Frozen)
What is Loomacy, you ask? Why, it's this channel's term for having an irrational obsession with the Rainbow Loom. And my god, if you've got a touch of the Loomacy, then this channel exists entirely to enable you. Remember that Rainbow Loom Captain America I mentioned at the start? Well, PG's Loomacy has not just got a tutorial for good ol' Cap – there's an entire Rainbow Loom Avengers series. Rainbow Loom Black Widow? Hulk? Thor? Oh yes.
The ultimate channel for the geeky loomer. And I haven't even started on the fact that there is a Rainbow Loom Nativity figure series on the channel as well…
How to make a Rainbow Loom Captain America

Struck with the Loom Band bug? You can get all the materials from these places (and many more).
More Loom Band ideas