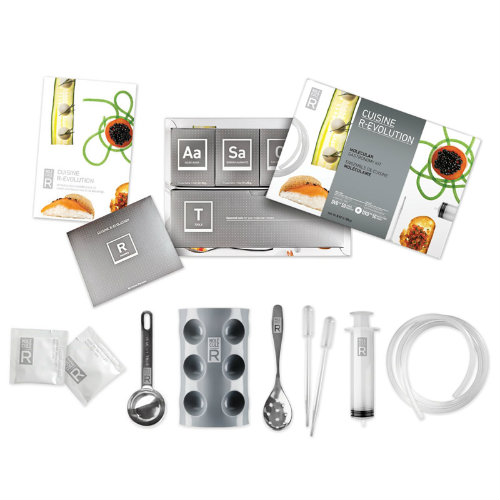 If you're an avid viewer of shows like Masterchef and Top Chef, you will have heard about molecular gastronomy. And if you're not familiar with it, it's basically food geekery on an entirely new level. Molecular gastronomy is a sub-discipline of food science, which aims to investigate the physical and chemical transformations that occur in ingredients while you're cooking.
So, in a nutshell, think about what Heston Blumenthal does. Aside from being ridiculously cool to watch, it's also ridiculously hard to master – or it looks like that at least. But Prezzybox have come up with a solution, so you can attempt a bit of Heston-esque tinkering in your own kitchen. They're selling a molecular gastronomy kit, which looks like the type of present I would quite like for my birthday, thank you.
At £39.95, the kit  is very reasonably priced for what it offers – the tools needed for three of the most-used techniques (spherification, emulsification and gelification – a lot of -ations, really) are included, along with the food additives needed and a DVD with recipe ideas. Imagine Heston himself being in your kitchen and teaching you how to make chocolate spaghetti.
It's a cool gift idea if you've got a keen cook with a birthday coming up. Or if you want to up your own skills, get a kit for yourself and impress (hopefully) at your next party.
Features everything you need to experiment with:

Spherification: a technique which achieves a caviar-like effect
Emulsification: making flavoured foams
Gelification: sculpt flavours into  pearls, raviolis or spaghettis
Contents:
4 food additives (20 sachets)
3 pipettes
1 slotted spoon
1 measuring spoon
1 food grade syringe
2 silicone tubes
1 silicone mould
1 DVD of 50 recipes
Additives included:
5 sachets / net 10g – Agar Agar
5 sachets / net 25g – Calcium Lactate
5 sachets / net 10g – Sodium Alginate
5 sachets / net 10g – Soy Lecithin
Dimensions:

30.5 x 17.8 x 7.6cm
Get your molecular gastronomy kit from Prezzybox, for £39.95. They're also selling this Molecular Mojito Mixology kit – which is a mouthful – a nice addition to this kit at £26.95